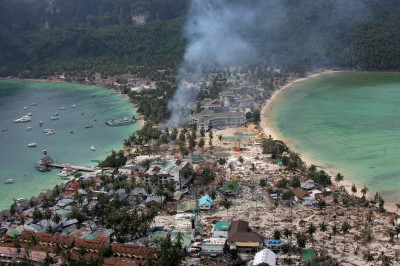 An earthquake of 8.7 magnitude struck off the coast of Indonesia's Aceh province and resulted in a large-scale tsunami warning being issued for 28 countries and regions in the area, according to a Reuters report. The report added that Indonesian President Susilo Bambang Yudhoyono said there were no immediate reports of casualties or damage in Aceh, the Indonesian province closest to the earthquake.
The quake struck at 08.38 GMT and the Pacific Tsunami Warning Center said soon afterwards a tsunami watch was in effect for the entire Indian Ocean. It later said the threat of a big tsunami had receded, although the warning remained in place.
"It doesn't look like a major tsunami. But we are still monitoring as tsunamis come in waves," Victor Sardina, a geophysicist on duty at the Hawaii-based institute, told Reuters.
The quake struck, according to the US Geological Survey (USGS), 500km southwest of the city of Banda Aceh, which is located at the northern tip of Indonesia's Sumatra Island, at a depth of 35km.
"The electricity is down, there are traffic jams to access higher ground. Sirens and Koran recitals from mosque are everywhere," said Sutopo, a spokesman from the agency. Indonesia's disaster management agency said that people were gathering on high ground as sirens warned of the danger.
Furthermore, the earthquake was felt as far as the Thai capital of Bangkok and the southern Indian cities of Chennai and Kolkata, among others. The quake was also felt in Sri Lanka, where office workers in the capital, Colombo, fled their offices, and in Phuket, both of which were hit hard by the 2004 tsunami.
The earthquake has reportedly stuck in the same region as the 9.1 magnitude quake that was felt on 26 December, 2004. The resulting tsunami from that quake killed 230,000 people in 13 countries in the Indian Ocean region, including Thailand, Sri Lanka and India.
The present earthquake and continued tsunami warnings for the region has re-awakened fears of a repeat of the disastrous events of 2004.
Re-live those horrible moments and let us pray they are not repeated...