At least seven people including five attackers have been killed in gun and bomb attacks in the Indonesian capital, Jakarta, on 14 January. There were multiple bomb blasts around Thamrin Street, a shopping and business area near the United Nations offices in the city.
Jakarta police chief Tito Karnavian told reporters that seven people had been killed in the attacks, with three attackers killed in a shootout outside Jakarta theatre, and two in a suicide bombing at a police checkpoint near a Starbucks cafe.
Two civilians were killed, he said, including a Canadian, and twenty people inured, including an Algerian national and five police officers. The UN said that one of its employees had been seriously injured and was fighting for his life. The Dutch father-of-four is an ecological expert, who was advising the Indonesian government on preventing peat-land fires, Programme Director Achim Steiner said.
Isis claimed responsibility for the attack in a statement posted on Twitter. The claim, published by Isis-linked Aamaaq news agency, said the bombings were carried out against "foreigners and the security forces tasked with protecting them in the Indonesian capital.
Karnavian said that terror Isis is "definitely" behind the attack, which Syria-based militant Bahrun Naim had been "planning for a while".
Earlier, police Commander General Bandi Gamawan said that an Isis-linked cell in Solo, Java, that had been planning attacks in December was believed to be responsible for the attacks.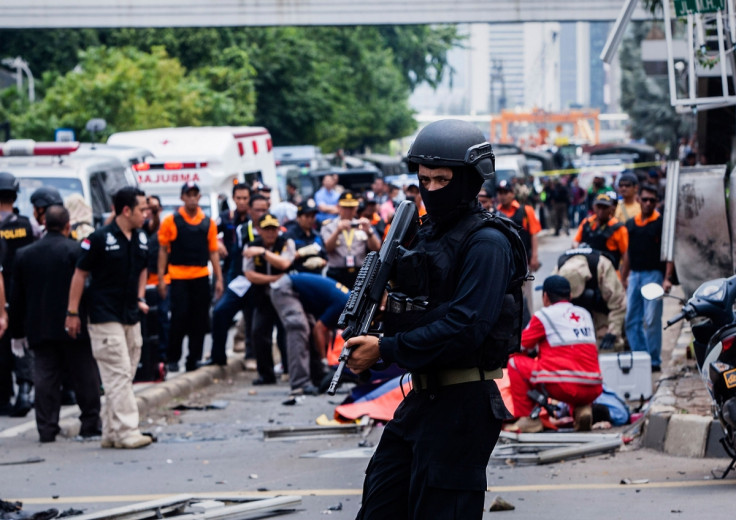 Indonesian President Joko Widodo condemned the attacks, and appealed for calm: "We all are grieving for the fallen victims of this incident, but we also condemn the act that has disturbed the security and peace and spread terror among our people."
At least one of the attacks targeted a Starbucks café near a police checkpoint, with witnesses telling Associated Press that three attackers detonated suicide vests. Starbucks said that one person had been injured in the café.
UN worker Jeremy Douglas told the BBC that he heard two blasts and ran into the UN offices. "We heard a third explosion. We got up to our office on the tenth floor and we heard a fourth, a fifth, and a sixth."
Pictures and video have shown gun battles between security services and attackers raging in the streets, before gunmen were reportedly cornered in the Skyline building, where police said they were killed.
National Police Deputy Chief Commander Gen Budi Gunawan said two attackers had been killed outside a theatre, and two others blew themselves up at the police post in front of Starbucks.
Initial reports claimed that up to 14 attackers were involved, and some remained on the loose, though police subsequently announced that the attacks were over, and security forces had the situation under control.
Hundreds of Indonesians are believed to have travelled to the Middle East to fight with Islamic State. Networks of extremists operate in the Muslim majority country, which is a secular state.