Indonesia is making final preparations to execute two Australian nationals convicted of drug trafficking.
Andrew Chan, 31 and Myuran Sukumaran, 33, are being transferred to Nusakambangan Island from a prison in Bali to carry out the death penalty, despite widespread condemnation and a diplomatic row between Australia and Indonesia.
"We have only 5% left to prepare. This includes transferring the convicts to Nusakambangan," Indonesia's Attorney General Muhammad Prasetyo told reporters, ahead of their transfer.
"Everything had to be organised first before transferring the prisoners because we do not want them to be in the isolation cells for too long [before execution]."
The two, who will face the firing squad on the island, were given the death sentence in 2006 for attempting to smuggle heroin out of Indonesia.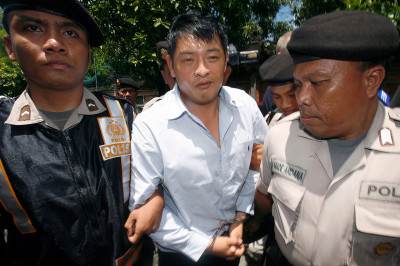 Chan and Sukumaran were taken in two armoured vehicles accompanied by top security personnel and several journalists. The two Australians will be flown to Nusakambangan from Denpasar airport.
The convicts were to be executed in February, but the execution was delayed by a month due to administrative difficulties at the island's prison.
The exact date and time of the execution will be announced only after the convicts reach Nusakambangan, which houses several high-security prisons.
A French citizen and Brazilian also face the death penalty. They are both already on the island. The Indonesian attorney general confirmed the Brazilian convict Rodrigo Gularte, 42, will be executed despite reports claiming he was mentally ill.