Australian Prime Minister Tony Abbott has warned Indonesia of possible diplomatic consequences if the imminent executions of two Australian citizens condemned to death for drug smuggling go ahead.
33-year-old Myuran Sukumaran and 31-year-old Andrew Chan were convicted in 2005 of plotting to smuggle heroin out of Indonesia as ringleaders of the so-called "Bali Nine."
The head of Bali's provincial prosecutors' office Momock Bambang Samiarso said the pair were being moved from Bali to Nusakambangan Island prison in neighbouring Java where they will face death by firing squad.
Speaking to Australian Network Channel Ten Abbott said: "We will be finding ways to make our displeasure felt. Millions of Australians are feeling sickened by what might be about to happen in Indonesia."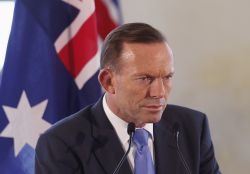 Abbott has come under increasing domestic pressure recently, culminating in a bid to have him replaced, but he seems to have divined public opinion on this issue.
Some 150,000 people have signed petitions calling for clemency and many have signed up to a growing campaign, #BoycottBali. Bali is one of the most popular overseas resorts form Australian sand a boycott would have an enormous impact on the local economy.
In a survey by the Lowy Institute 62 percent of 1,211 people surveyed were against the executions. The executive director of the Sydney-based think tank, Michael Fullilove, said: "As the date for the executions of Andrew Chan and Myuran Sukumaran appears to draw closer, Australian public and political opposition is crystallising."
United Nations Secretary-General Ban Ki-moon also made an appeal to Indonesia last week, but so far the government there are refusing to budge - five foreigners were executed for similar offences last month.
Foreign Minister Retno Marsudi said Indonesia reserved the right to execute drug-dealers: "The death penalty can be given for serious crimes, and in Indonesia, drug trafficking is a serious crime."
Two of those executed last month were from Brazil and Holland and both countries withdrew their envoys from Jakarta in response. Australia has not ruled out doing the same if the executions of Chan and Sukumaran take place.