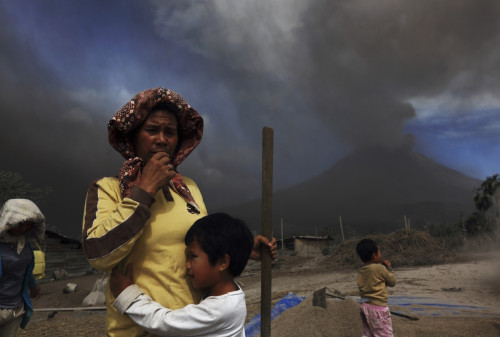 Mount Sinabung on Indonesia's western island of Sumatra has erupted, sending red-hot rocks and ash 2,000 metres in the air, killing 11 people and injuring three others.
Among the dead were four pupils on a school sightseeing trip to the volcano, said a spokesman.
The 11 victims were found dead in Sukameriah village, said Sutopo Purwo Nugroho, spokesman for the National Disaster Management Agency.
Several eruptions of Mount Sinabung in North Sumatra province on Saturday sent lava and pyroclastic flows down the southern slopes up to 4.5 kilometres away.
Nugroho says the volcano is still sending deadly clouds of gas and lava up to 2,000 metres into the sky. It's feared that the number of dead could rise as rescue efforts become hampered by darkness.
"Eight corpses have been identified, while three others are on their way to a Kabanjahe general hospital," Nugroho told Xinhua News Agency. "It is foreseen that there are still more victims at the scene (the dangerous zone). But they could not be evacuated as they are at the pathway of hot ash, 3km from the craters," he said, referring to the 5km evacuation zone.
Among the dead were a man and his son, caught by the eruption as they went to pay their respects at the graves of relatives in Sukameriah village, which is 2.7km south of Sinabung crater.
Another man, who had returned to the village to check on his abandoned house, was also trapped and injured by the clouds, according to officials.
The eruption covered the surrounding countryside with grey dust, said Indonesian volcanologist Kristianto.
About 33,000 people have taken refuge since Sinabung started erupting in September after remaining dormant for four years.
Authorities on Friday allowed nearly 14,000 villagers to return home after they fled from previous eruptions.
Advice from the Centre for Volcanology and Geological Hazard Mitigation believed that houses outside a 5km radius of Sinabung were safe.
Until Saturday's eruption, Sinabung had shown a reduction of activity since mid-January.
It had been quiet for around 400 years until it rumbled back to life in 2010, and again in September last year.
Watch video of Mount Sinabung volcano erupting