Authorities in Indonesia say they are preparing for the worst case scenario after Mount Sinabung erupted 77 times over the weekend.
The National Disaster Mitigation Agency has now instructed all relevant government ministries and the Karo regency administration in North Sumatra to prepare for the worst after the volcano increased in activity, displacing 20,000 people.
In the event of a worst case scenario, the evacuation zone surrounding Sinabung would be extended to between 7.5km and 10km from the crater.
Currently the evacuation zone is between five and seven km from the volcano's centre.
Sutopo Purwo Nugroho told The Jakarta Post that there are currently 60 pyroclastic flows running from the crater and extending to between two and five km down the mountain slope.
He also said the volume of the flow – composed of fluidised masses of rock fragments and gases – is increasing every day. Explaining how the relevant authorities are preparing, Sutopo said they are following procedures used when Mount Merapi erupted four years ago.
"Learning from Mount Merapi's eruptions in 2010, during which increased volcanic activity was followed by an increase in the evacuation radius from five km to 10, 15 and then 20 km, preparations for dealing with evacuees must be conducted well," he said.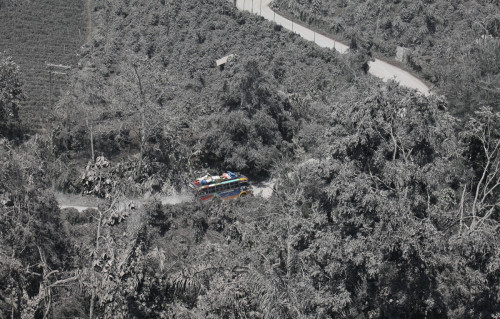 At present, the 20,000 people that have been evacuated are being accommodated at 32 evacuation centres.
As of 6am Sunday local time, Sinabung had erupted 77 times, with smoke and ash being spewed between 500 and 4.5km into the air, with volcanic matter moving in a southerly direction.
The volcano sent rivers of lava flowing through an evacuation zone over the weekend. Sutopo said: "Hot lava spewed from the volcano some 60 times, reaching up to 5km [three miles] southeast of the crater. This outpour is the biggest we've seen in all the recent eruptions."
Ahmad Nabawi, a member of the observation team, said he expects volcanic activity to increase as so far just a quarter of the volcano's 2,540,000 cubic meters of lava has been expelled: "This means that the pyroclastic potential stored in the volcano's lava dome is still substantial; so if it should all come out, the threat would be devastating," he said.
Sinabung has been erupting since September last year and it is currently on the second highest alert level in Indonesia's four level system.