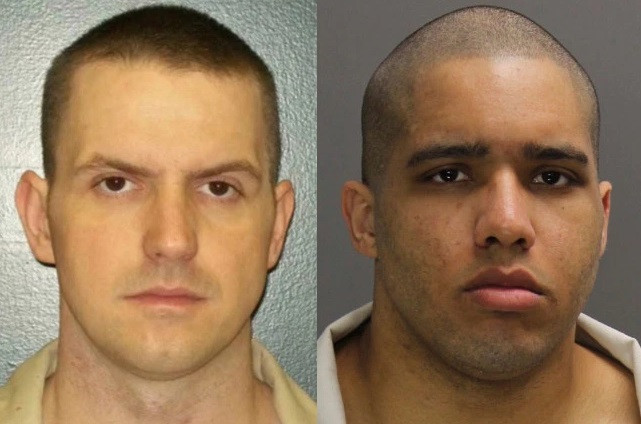 A South Carolina prisoner has revealed how he and another inmate lured four men to their cells to be brutally murdered using promises of cookies and drugs.
Denver Simmons and Jacob Philip strangled and beat their four blockmates to death in their cell at the Kirkland Correctional Institution on 7 April.
The pair killed the men over the course of just half an hour leaving the bodies concealed in their cell as other unsuspecting inmates arrived.
Officials say that Simmons and Philip confessed to the killings of Jimmy Ham, 56, Jason Kelley, 35, John King, 52, and William Scruggs, 44.
It has been reported that the pair offered Scruggs cookies in exchange for doing some laundry and Ham was offered some crushed pills to snort.
Simmons, who was convicted for the murders of a mother and her teenage son, said in an interview with the Associated Press (AP) that the pair made the pact in order to get the death penalty.
The 35-year-old said: "I'd always joke with him - from back in August and September and October of 2015 - that if we weren't going to kill ourselves, that we could make a name for ourselves, so to speak, and get the death penalty.
"The end of March of this year, he was willing to do it. So, we just planned to do it. And we did it."
The suicidal prisoner even said that they had nothing against the murdered men, one was even a friend.
The two killers were serving life without parole for two double murders.
In May 2010, Simmons killed 45-year-old Sheila Faye Dodd then picked up her 13-year-old son from school and killed him, said police. In a plea bargain Simmons agreed to plead guilty in exchange for avoiding the death penalty.
The 26-year-old Philip, who had been attending a US Navy school, pleaded guilty in August 2015 to strangling his girlfriend, Ashley Kaney, 26, and her eight-year-old daughter in 2013.
The unit where the murderers were being held was for prisoners needing mental health care and they were both 'dormkeepers' for their unit, it was reported by AP.
Simmons said of the prisoners: "They, they trusted us. We talked to these people every day. One of them was a friend of both of ours. And they just trusted us. We come up with something for each one."
The four men were beaten with broomsticks, strangled and choked to death before Simmons told a prison officer what they had done.
It is unclear if South Carolina authorities will hand either man a death penalty as the state has not carried out an execution in six years. Recently, a killer of seven has handed life without parole.