In the third part of IBTimes UK's investigation into London's street gangs, two former drug dealers describe huge bar bills and escaping the capital's "boring" gun conversations.
Mitch could not stop talking about it. It had been one of the best experiences of his life and days later, it was still all he and his friends could think about. It had been the weekend that changed his life and his excitement about the future was tangible. "Afterwards we were buzzing, we were taking about it for days. It changed everything and that was when the game started," he reminisces.
"It" was a night out during the 1990s to a club in central London, away from the tough neighbourhood in the north London borough of Brent he grew up in. The "game" was drug dealing and it would give Mitch everything he wanted as a man in his late teens: money and women.
He had been invited by the neighbourhood's "olders" – gang members who had risen up the ranks to become some of the capital's most feared and respected criminals. Of course, not everyone knew their lucre, of which there were buckets, was the proceeds of crime.
"They were the real life Goodfellas. The black Goodfellas" - former gang leader Mitch
"Even my mum on the estate loved them. They were polite and respectful and wore smart clothes. They wore suits and looked good. And they had respect for everyone. That was, until you violated. The love these n****** got. I've never seen such beautiful girls. That night, everyone got introduced to us, we were called their little brothers. They were the real life Goodfellas. The black Goodfellas."
After guzzling a taste of the high life, Mitch knew that to live like an older, he had to get his hands dirty. He had never sold heroin before but when someone in Harlesden asked if he could secure some, Mitch did not hesitate. And the money soon flowed.
We were putting £1,000 behind the bar: money was like toilet paper
"Someone asked me for brown [heroin] so I bought an 8-ball [eighth of an ounce]. It blew up so fast we were at two bricks [2kg] in no time. We had half the hood on it. I was putting in shifts on three lines [phones] with each one doing well over two bags [£2,000] a day. We were making so much money that we started flossing [spending on visibly luxuriant items]. We were putting £1,000 behind the bar, going to clubs in limos: money was like toilet paper."
"We were good fellas" - who were the Goodfellas?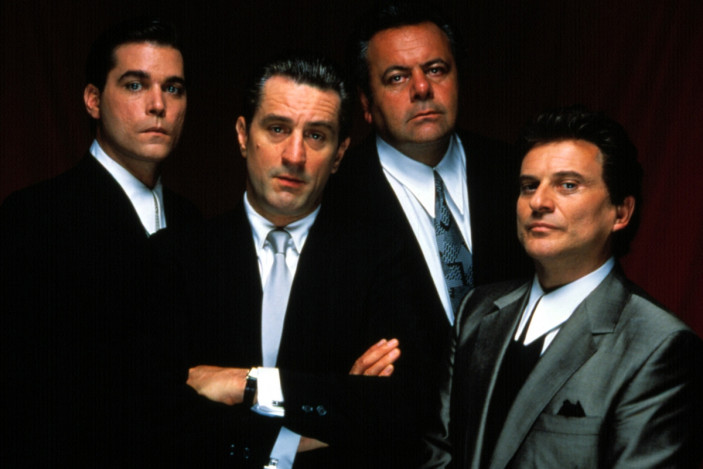 Directed by Martin Scorsese and released in 1990, Goodfellas is often cited as the quintessential mob movie. Narrated by gangster turned FBI informant Henry Hill (Ray Liotta), it portrays the violent rise of associates of the Lucchese family between 1955 and 1980 in east New York before the inevitable fall.
Central characters Paul "Paulie" Cicero (Paul Sorvino), James "Jimmy the Gent" Conway (Robert De Niro) and Tommy DeVito (an Oscar-winning Joe Pesci) are memorable for their smart suits, wads of rolled-up dollar bills and ferocious tempers. Catchy one-liners lend the film some of the most quotable utterances from the movie world.
Towards the end of the film, Hill explains what it was to be a Goodfella: "You know, we always called each other good fellas. Like you said to, uh, somebody, 'You're gonna like this guy. He's all right. He's a good fella. He's one of us.' You understand? We were good fellas."
Mitch's graduation into selling class A drugs had been a gradual one, starting in the corridors of a north-west London school in the 1980s. Speaking in patois Caribbean with a splash of London street slang, he explains: "At the age of around 11 or 12, I started a protection racket. It started off at 50p a day to protect a couple of Jewish kids. "It was my job to make sure no one troubled them."
The racket developed an instinct for the material items he later craved: "I remember one day Mum bought some Dunlop Green Flashes and I refused to wear them. After that I said I would buy my own trainers."
I started off in the game by protecting Jewish kids in primary school for 50p a day
His earlier citation of Goodfellas comes to mind when he describes his first day at secondary school, which sounds like a scene from the Martin Scorsese canon. He says: "I was walking through the corridor when a sixth former barged into me. I knew how to fight because the olders from our estate used to rough us up and make us fight. I was embarrassed, so I f***** up the guy. On my first day. No one messed with me after that. I had protection from the olders, too. I just all felt standard for where I was from."
"I had thousands of pounds on cash but spent my money on cooking ingredients
Jewellery, top-end fashion and lavish nights out never appealed to Curtis. The 24-year-old former gang member says the only "luxury" clothing he splashed out on were Ralph Lauren hoodies and trainers. His idea of glamour is far removed from that of Mitch. In fact, it is far away from London altogether.
"I was never into materialistic things," Curtis admits. "Glamour to me was when I was living in country [out of London] in Surrey. It was the best experience of my life. Not because of the money [at the time Curtis was selling drugs], but because I was away from the city, away from the same old people. I liked being around university people and talking about different things. In London, the conversations were about who shot who, girls, drugs or the Illuminati.
"I'm interested in different things, I read a lot and like to be around people who are of the same level. A lot of the people in country I met were healthy, they ate healthy. That's when I started becoming interested in cooking. I spent a lot of my money on ingredients to learn to cook, to perfect a recipe. The rest of the money, thousands of pounds, was kept at home, at other peoples' homes or in their bank accounts. I've never had a bank account.
Being in a gang is like McDonald's: there is only so much you can take
"Living in country meant I didn't get the headaches I would get in London. I would get bad headaches in London, maybe from the stress. I was diagnosed with depression when I was about 19 or 20."
Mitch and Curtis had different ideas on wealth and displaying their riches. But one thing the pair agree on was the need to walk away from life in a street gang. "I would do it all again," Mitch confesses. "But then at the same time it's like McDonald's: there is only so much you can take."