The train slowly trundles along its single track across the flat marshes of Norfolk until it pulls in to its final destination, Great Yarmouth station. On the surface the town might appear a remote seaside locale on the east coast of England, but it is here that the first tremors of a potential political earthquake are being felt.
People across Britain are heading to the polls this May, and the UK Independence Party are hoping to make a big impact. With their anti-EU mantra, Ukip are favourites to win the European Elections, but it is the local elections taking place up and down the country where real footholds could be made.
Last year's local elections saw Ukip leap from having eight council seats to 147, making great strides in Suffolk, Norfolk, Cambridgeshire and Lincolnshire. The party are hoping for even bigger gains this time around in these areas of eastern England, and if the party is to break into Westminster in 2015, then it needs to become a domestic force in places like Great Yarmouth.
Seaside Strength
"I think traditionally over time this is going to be our area of strength, these sort of seaside towns are going to be an area of strength for Ukip," says Matthew Smith, Ukip councillor for Gorleston, St Andrews.
"We want to get as many councillors in as possible, and it's not beyond the realms of possibility that this year we become the official opposition on the council. That's really what we'd like to achieve this year. What goes on at the euros with the main party, I'm absolutely certain we're going to get three, maybe four MEPs in the eastern region, but I think what's more important for the party is that we build up council bases in constituencies like Great Yarmouth," he says.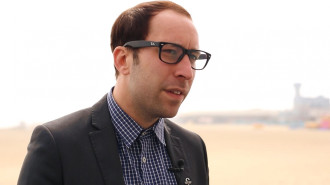 Aged just 26, Matthew Smith is not your typical Ukip member. Voted into Norfolk county council, along with four other members of Ukip last year, he has seen membership in the area grow from 20 to almost 100 people. If the party's local share of the vote from last year was replicated in 2015 it would win in Tory-held Great Yarmouth, and Smith, running as a candidate, hopes to become one of the first Ukip MPs in Westminster.
"In an ideal world I'd be one of the first ones in, and I think that would be really exciting for me and for the party, because I don't think that I necessarily fit the Ukip stereotype. I think that would be good for the party, and certainly good for Yarmouth to be the focal point of politics, and I'd like to be able to use that to help the constituency," says Smith.
Left Behind
An isolated town hit by a failing economy and fears over immigration; there is a sense that places like Great Yarmouth have been forgotten by Westminster. Dr Matthew Goodwin, co-author of new book 'Revolt on the Right: Explaining support for the racial right in Britain', explains that Ukip support has been drawn from these 'left behind' social groups who are both detached from and disillusioned with the current political establishment.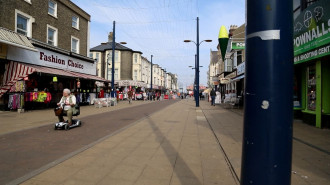 "Ukip support is actually tapping in to widespread public discontent with Westminster politics in general. Not just David Cameron, but David Cameron and Ed Miliband. Not just the current generation of political leaders, but elites in general. Because Ukip are rallying voters who feel very disconnected from our professional, middle-class, slightly London-focused, quite cosmopolitan establishment," he says.
Rachel Williams, a Great Yarmouth local, fits the mould. A resident of the town for over 20 years, she admits that she is leaning towards voting Ukip for the first time.
"I've never voted for them [Ukip] before, but I think I'm going to now, even though my husband is a foreigner. Immigration is out of control around here, and the major parties have done nothing for Great Yarmouth recently," she says.
Williams, who moved up from Bournemouth to start a family in Great Yarmouth, is even less kind towards the people of the town.
"I call them flat-liners, because their minds are just as flat as the landscape," she says.
It's a harsh assessment, but the creaky pier, gaudy attractions and deserted beaches do give off the appearance of a town left behind by modern cosmopolitan Britain. Great Yarmouth is heavily dependent on its £480m tourism industry, but the numerous pound shops along the high street reveal how hard the recession has hit the area. 2012 borough council statistics revealed that 22% of the town's population are living in LSOAs (lower super output areas) among the most deprived 10% in the country, with high levels of deprivation meaning that 7,000 households are affected by fuel poverty.
This, combined with ONS statistics that show Great Yarmouth's ethnic minority population jumped from 1.4% in 2001 to 5.7% as of 2009, mostly Polish, Portuguese and Lithuanians who have been attracted to the town, presents a fear for the people that their world is rapidly being changed by outside forces, and that they have very little say about its uncertain future.
Little People
Local record store-owner Alan Grey is one of the other Ukip councillors in Norfolk who was elected off the back of such discontent with the current state of affairs. When I speak to him he sports a Robin Hood badge on his purple polo shirt, and it's clear to see that the legendary heroic outlaw is something of a role model.
"People are just fed up with the bickering between the two parties, the two main parties, they're fed up with that bickering and they don't want to listen to it anymore," he says.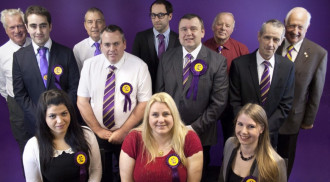 "They just want someone who can offer them fresh hope, and they feel that it's us because we're not career politicians, we're just little people in a little town who just want to do the best for our area, it's as simple as that," says Grey.
Alan's wife Kate Grey is just one of the candidates hoping to gain the party's first seats on Great Yarmouth borough council. Such an impressive feat would prove that Ukip can win elections, and help pave the way for the party to succeed here at the General Election next year. With the UK's first past the post system, building up strongholds in areas like Great Yarmouth is the only way to break into Parliament.
"You have to think back 20 years to what the SDP and the Liberals did where they built up local bases through localism, and I think the Liberal Democrats lost their way with that, they've very much become enamoured with the Westminster bubble and they've been sucked in," says Smith.
"It is important that Ukip don't get sucked in to the Westminster bubble and do remember that localism is the key to everything, because at the end of the day it is the voters who vote you in and it is the voters that can vote you out," he says.
Lynne Connell, another Ukip candidate at this year's local elections, agrees.
"I think going local is the way forward, local jobs for local people, local housing for local families, or we won't have community," she says.
Rather than its broad views over Europe and immigration, it's the intense localism of Ukip, as a party of the people outside the corridors of Whitehall, which appeals to neglected regions such as Great Yarmouth; those who are dissatisfied by the three major parties and feel they no longer have a voice.
Ukip will continue to build up support in these parts of the east coast and hope they will prove the stepping stones to enter Parliament next year. Catching the train from Norwich the town might be at the end of the line, but supporters of Ukip are hoping that Great Yarmouth is just the beginning.