Intel CEO joins Merck's boss in quitting Donald Trump's advisory council over Charlottesville
Brian Krzanich says there should be "no hesitation" in condemning far right elements after the appalling violence in West Virginia.
Technology giant Intel's chief executive officer Brian Krzanich has joined pharmaceuticals firm Merck's boss Ken Frazier in quitting Donald Trump's American Manufacturing Council following the US president's failure to unequivocally condemn the far right in his initial statements, after violence erupted at a white supremacist rally in Charlottesville, West Virginia.
Kevin Plank, boss of footwear and apparel maker Under Armour, has also followed suit. On Saturday (12 August), anti-fascist and far right protesters clashed in the American university town.
A female protester was subsequently killed when a car intentionally rammed into a crowd protesting against white supremacists.
James Alex Fields, 20, is under custody for being the alleged driver of the vehicle. There were several arrests and injuries in separate incidents.
Following the incident, Trump took to the airwaves condemning violence on "all sides" but was severely criticised for not specifically denouncing the far right.
Under pressure, the President later came out and condemned "evil racists", Klu Klux Klan and Nazi "thugs." However, not before Frazier, a leading African-American industry captain, announced he was quitting the President's council on Monday (14 August).
The Merck boss tweeted: "I feel a responsibility to take a stand against intolerance and extremism.
"America's leaders must honour our fundamental views by clearly rejecting expressions of hatred, bigotry and group supremacy, which run counter to the American ideal that all people are created equal."
Never one to shy away from a response, Trump tweeted that Frazier would now have "more time to lower rip off drug prices".
The exchange came after the White House rejected criticism of Trump's response to the violence. Later in the day, Krzanich and Plank followed Frazier in stepping down.
Krzanich announced in an Intel blog post that he was leaving the council "to call attention to the serious harm our divided political climate is causing to critical issues, including the serious need to address the decline of American manufacturing.
"Politics and political agendas have sidelined the important mission of rebuilding America's manufacturing base."
Tweeting prior to his decision, Krzanich had also said "there should be no hesitation in condemning hate speech or white supremacy by name".
Meanwhile, Plank tweeted: "We are saddened by Charlottesville. There is no place for racism or discrimination in this world. We choose love and unity."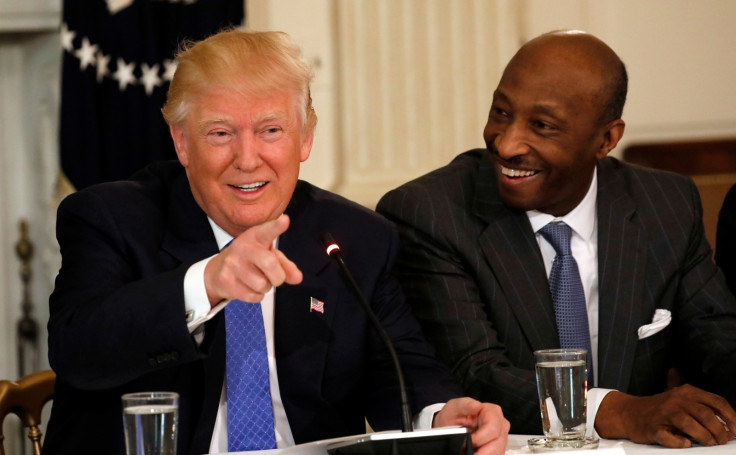 Hours later, he too announced his resignation noting: "I love our country and our company and will continue to focus my efforts on inspiring every person that they can do anything through the power of sport which promotes unity, diversity and inclusion."
The latest departures constitute a severe setback for the President's advisory councils which continue to shed high profile corporate heads. In February, former Uber chief executive Travis Kalanick left Trump's Business Advisory Council over the administration's stance on immigration.
Tesla's boss Elon Musk and Walt Disney CEO Robert Iger quit the President's Strategic and Policy Forum in June, after he announced the US' withdrawal from the Paris climate accord.
© Copyright IBTimes 2023. All rights reserved.