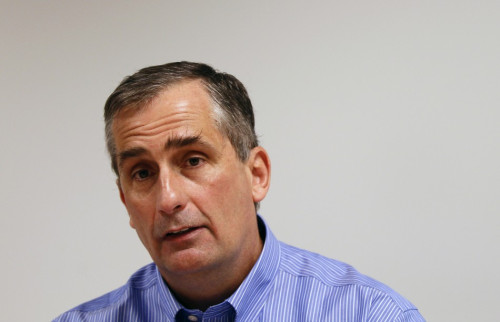 Intel has some tricks up its sleeve and is planning to surprise the technology industry with an array of futuristic innovations at CES 2014 next week.
In an interview with re/code, Intel's CEO Brian Krzanich said CES 2014 will see Intel demonstrating working versions of innovations that are several months or a year from hitting the market, such as wearable tech gadgets, some next-gen PCs, as well as tablets with "ground-breaking features."
"Right now people look at Intel as the PC company. We did a very good job of becoming the PC company over the last 20 years or something. That was a battle worth fighting and winning, but the market moved."
Back in November, Intel's chairman Andy Bryant admitted that the chip manufacturer had "lost its way" by being too slow to spot the transition to mobile devices over the last five years, which has seen rivals Nvidia, Qualcomm and other companies all using ARM's low power chip design gain significant market share in the mobile market.
Paying the price
"We were in denial on tablets. It put us in a hole, and we are paying the price for that right now," Bryant told investors at a day-long investor meeting at Intel's Silicon Valley headquarters.
Krzanich, formerly the head of Intel's manufacturing operations, has been pushing his team to move into the 21st century, and says that the wearable technology market is a good direction for Intel to move into.
"What you will see at CES is that we are actually going to bring some very innovative wearables to the show that are developed and manufactured here," he said.
Make everything smart
Krzanich admits that making headway in the crowded smartphone market will be difficult as Intel has missed out on being the default chip manufacturer for "one of the two big guys [Apple and Samsung who command 80% of the smartphone market]", so the chip manufacturer is focusing on bringing innovations to tablets:
"What you will see at CES [are] tablets that are doing some things that you didn't think possible," adding that this will include innovations around imaging.
Intel is also pushing into the smart meters / smart cities arena and intends to expand its Quark chip portfolio to "make almost everything smart". Quark chips are currently being used in European heating and air conditioning systems.