Intel has showcased the prototype of an 'open source crowd-sourced robot' that even laymen can assemble using just a 3D printer, open source files and a few downloaded apps. This 'user friendly' robot called Jimmy is even programmed to be social.
Jimmy's 3D printed robotic system is a result of Intel's 21st Century Robot Initiative through which the chip maker aims to develop robots for use across sectors ranging from healthcare to public transportation.
Jimmy, the build-it-yourself robot, can be of great help in general everyday tasks.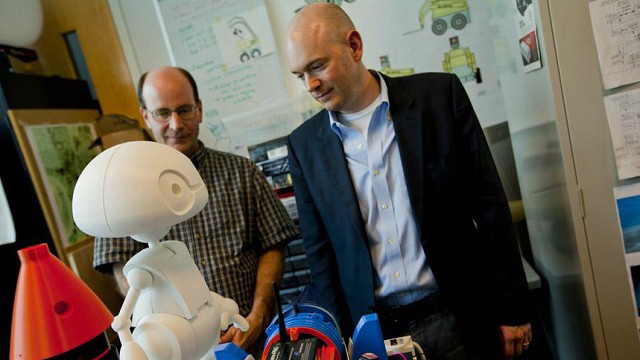 To assemble Jimmy, users will need a kit which Intel will make public soon. This kit consists of accessories such as batteries, servo motors and various internal devices. Creating the outer structure of the robots involves 3D printing so that unique robotic patterns are produced to differentiate one Jimmy robot from another.
According to a PC World report, Jimmy's open source kit, when officially released, would have a price tag of $1,500, £882.93. The robot is said to be capable of attaining heights of up to 45 centimetres.
Jimmy comes as a biped and is custom-made for use in domestic household chores such as cleaning up, washing and picking up stuff. However, since the robot is a create-it-yourself product, tech geeks should be able to add more functionality to it.
Jimmy uses two cameras to detect and identify stuff. The robot is also said to be capable of translating languages, with its low cost Edison chip board that Intel has embedded within. Upon assembling the 3D printed robot, users can also watch Jimmy dance, sing, talk, and even send out tweets.
The robot can also be programmed to pour drinks into glasses which should make it an efficient drinks supplier. This property is likely to get noticed by people across the world who own bars.
A distinct advantage that Jimmy gives people preferring its system is 'ease of building and operability' as users need neither robotic knowledge nor special academic qualifications to build the 3D printed robot.
All Jimmy uses is a 3D printer and specific apps that Intel is planning on releasing soon. These apps will be released by Intel along with the open source files that are required to build Jimmy's system.
"What's so exciting about the open source model is the public gets involved in developing this first generation of crowd-sourced, consumer robots. We all get a say in what they do, and together we will come up with far more ideas, more innovation, and more creativity," stated Brian David Johnson, Intel's resident futurist, in an official blogpost.
Jimmy, once official, is expected to provide the much needed shot in the arm that the artificial intelligence sector is currently seeking. With Intel looking to lead the way in this regard, we can expect the popular chip maker to dominate the robotics sector as well.