Following more than a decade of research, Intel has announced a new breed of fibre-optic cable capable of transferring data at speeds of up to 800 gigabits-per-second (Gbps).
The new networking technology will be rolled out in the second half of this year, offering significant speed increases to supercomputers and data centres around the world.
Intel partnered with fibre-optics manufacturer Corning to produce the MXC cables, which are not only faster but also smaller and stronger than the traditional copper cables they will replace.
The speed at which data can be transmitted through the new cables is such that a two-hour HD film (4GB) could be downloaded in less than two seconds.
A more efficient web
Dr. Mario J. Paniccia, Intel Fellow and general manager of the Silicon Photonics Operations Organisation, described the benefits of MXC technology and its wider reaching implications in a recent blogpost.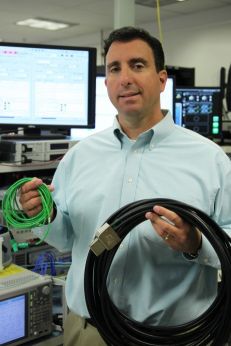 "MXC cables have several advantages over traditional optical connectors besides the 1.6Tbps bandwidth," Paniccia said.
"MXC connectors have fewer parts, are more robust, smaller, and are able to support 64 fibres and with a unique telescoping lens design that is 10 times more resistant to dust."
Integrating the cables into core communications infrastructure could potentially change the way data centres are built in the future.
"Why should you care?" Paniccia asked. "Because it will help serve up all of what you love about the web, apps, and more much, much faster."
Intel revealed that Microsoft, Huawei, Arista, Fujitsu and Facebook via the Open Compute Project have already trialled the new cables.
"MXC cable assemblies have been sampled by Corning to customers and will be in production in Q3 2014," an Intel spokesperson said. "US Conec announced that it will sell MXC connector parts to Corning and other connector companies."