Inter Miami Lose U.S. Open Cup Final, Boss Tata Martino Makes Big Revelation About Lionel Messi
Inter Miami lost 2-1 to Houston Dynamo FC in the final.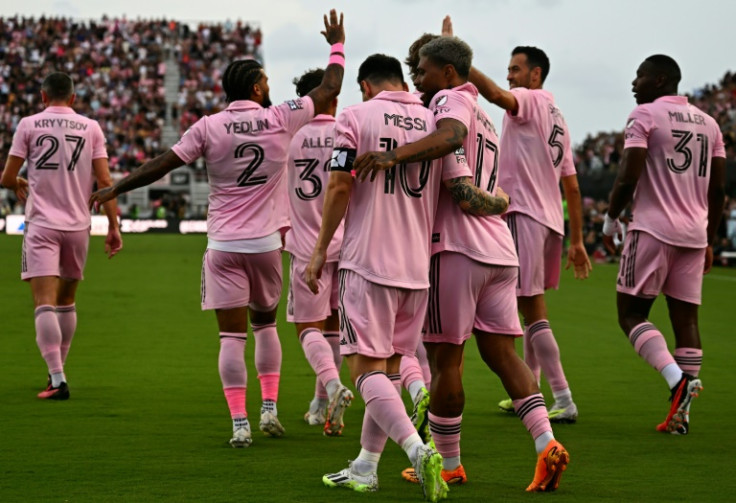 Inter Miami boss Gerardo Martino has made a big revelation about Lionel Messi just hours after his side lost the U.S. Open Cup final.
Inter Miami missed out on their second-ever trophy as they suffered a 2-1 loss against Houston Dynamo FC in the U.S. Open Cup final on Wednesday. While it was slightly more disappointing as the match was played at Inter Miami's home, what was more of a letdown was that Messi failed to make it to the pitch.
Messi watched the final from stands
The 36-year-old forward, however, was in attendance as he watched the match from the stands at DRV PNK Stadium with his family.
Messi, who is struggling with a leg injury, has now missed four out of Inter Miami's last five matches. He played in his side's 4-0 victory over Toronto FC on Sept. 21, but he was forced to get subbed off after 37 minutes.
Will Messi play for Inter Miami again for the remainder of the season? It is a valid question as the World Cup-winning captain is struggling with "muscle fatigue" and will now be evaluated on a weekly basis.
When will Messi return to action?
Speaking at the post-match conference after Inter Miami's loss on Wednesday, head coach Martino said that "it was clear that it was not wise to play him, even for a few minutes because we were taking risks.
"He will surely play before the end of the championship. From today, we will define the situation match by match to see at what point the medical staff tells us that 'he is able to play without taking risks'," added Martino.
Inter Miami were also without Messi's former FC Barcelona teammate Jordi Alba as the defender was also ruled out with a muscle issue.
Speaking of the final against Houston, Martino admitted that the opponents were better than his side.
"Today, I saw a worn-out and tired team. We were also limited by the injuries, so our performances was affected by those circumstances. Now we have a final on Saturday, and another on Wednesday. There is nothing to complain about, we are going to keep trying," added the Inter Miami boss.
Before the end of the regular season, Inter Miami have five league games remaining. The play-offs, which the Eastern Conference side can still aim for, are due to begin at the end of October and will run until the beginning of December.
Inter Miami are scheduled to end this week with another match at DRV PNK Stadium, with the team hosting New York City FC this Saturday (Sept. 30) at 7:30 p.m. ET in the MLS. At present, New York City FC occupies the final playoff spot in the MLS Eastern Conference, and Martino's Inter Miami are focused on closing the five-point gap that separates them from a postseason berth.
Messi has big games lined up with Argentina
Messi, meanwhile, has some big international fixtures lined up for the rest of 2023. Argentina are scheduled to play four more games this year as a part of the 2026 World Cup qualifiers. The games are against Paraguay (Oct. 13), Peru (Oct. 18), Uruguay (Nov. 16) and finally Brazil (Nov. 21). It is still unclear if Messi will recover fully to join the defending champions for those matches.
Earlier this month, Argentina won both their games during the international break. Messi scored in Argentina's 1-0 victory over Ecuador before sitting out of their 3-0 win over Bolivia due to the lingering injury.
Since his arrival at Inter Miami on a free transfer from Paris Saint-Germain (PSG), the talented forward has netted 11 goals and recorded five assists in 12 appearances for his new club in all competitions. He played a crucial role in Inter Miami's Leagues Cup successful campaign, their maiden title.
© Copyright IBTimes 2023. All rights reserved.