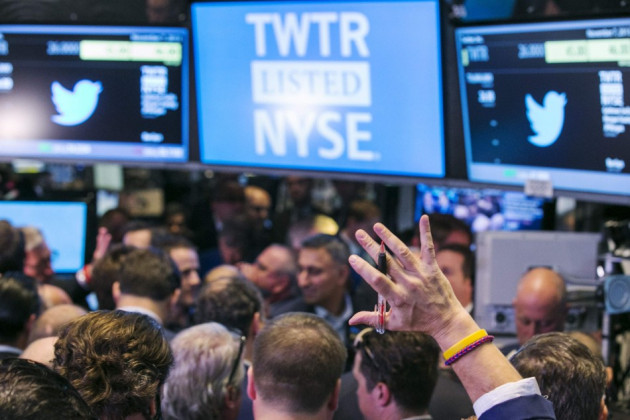 The Initial Public Offerings of US internet companies have always garnered huge public interest and they have often rewarded investors with huge returns.
On its debut trading day, Twitter shares opened 73.5% higher at $45.10 from its IPO price of $26. As a result, the company's market value surged to $31bn (£19.3bn, €23bn).
The micro-blogging website's IPO is the seventh largest floatation on the NYSE of 2013 and it is the largest internet IPO since Facebook went public in May of 2011.
Twitter's initial price surge compares with an average rise in IPO stocks in 2013 of just 17%. That shows the rising investor demand for Twitter shares.
Having started its 140-character-long message service seven years ago, Twitter currently has about 230 million users. Despite witnessing high revenue growth, the company is yet to make a profit. In the first nine months of 2013, revenues increased by 106% to $422.2m compared to the year before, while net loss grew 89% to $133.9m.
As this is the case of many internet start-ups, investors are betting on the long-term growth prospects of the social networking site. Analysts expect the company to benefit from its rising advertising revenue from mobiles and a number of interesting deals and partnerships.
Investors are also taking cues from the exponential growth of other internet companies, which experienced a significant surge in their share prices within a few years after IPO.
A research by data services firm Statista reveals that a number of US internet IPOs have yielded pretty good returns in the past.
Given below are details of US internet stock IPOs that gave investors a big fortune.
1. Amazon
The company went public in May 1997 as an online bookstore. Despite doubts about its future as a public company, the IPO was a great success with the share price rising more than 30% on the first day of trading. A $1,000 investment is valued at $239,045 as on 4 November, after adjusting for stock splits and dividends.
2. Ebay
The e-commerce giant went public on 24 September 1998. A $1,000 investment in the company's IPO has a value of $68,638 at present.
3. Yahoo
Being one of the most popular websites all over the world, Yahoo started stock market trading on 4 December 1996. Investors who spent $1,000 on Yahoo shares then currently have securities worth $61,052.
4. Google
The search provider that people consider as a synonym for the internet was a little late to enter the market compared with rival Yahoo. An investment of $1,000 in Google on the debut day of 19 September 2004 is now valued at $12,072.
5. LinkedIn
The professional networking site went public on 19 May 2011. A $1,000 investment in LinkedIn shares is currently valued at $4,972.
6. Facebook
Having gone public on 18 May 2012, the social networking giant was thought to have made a mistake at first. However, the company is turning out to be a solid investment after one and a half years of floatation, with the value of a $1,000 investment rising to $1,269.