Justice Secretary Chris Grayling says trolls are "poisoning our national life" and announced plans to update the Criminal Justice and Courts Bill, so that convicted trolls will face up to two years in prison.
In an interview with the Mail on Sunday Grayling referred to rape threats against Chloe Madeley after her mother Judy Finnigan discussed the case of footballer Ched Evans on ITV's Loose Women.
Under current law prosecutions under the Malicious Communications Act can only be brought in the Magistrates' Courts and the maximum prison sentence is six months. Grayling wants the law updated so trolling can be dealt with by crown courts, potentially quadrupling the maximum sentence.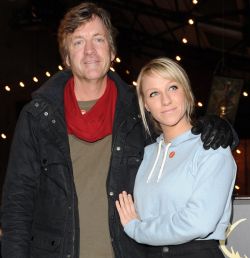 "As the terrible case of Chloe Madeley showed last week, people are being abused online in the most crude and degrading fashion," said Grayling. "This is a law to combat cruelty – and marks our determination to take a stand against a baying cyber-mob. We must send out a clear message: if you troll you risk being behind bars for two years."
The law is already being dubbed "Chloe's Law" after rape threats against Chloe Madeley were revealed.
Ms Madeley said they showed the 10-year-old laws need to be updated since the arrival of social media.
"The current law obviously needs to be reviewed," she told the newspaper. "It needs to be accepted that physical threats should not fall under the 'freedom of speech' umbrella. It should be seen as online terrorism and it should be illegal."
The government's plans came as it emerged that a Doctor Who fan who posted a review of the programme received 11 death threats.
"These internet trolls are cowards who are poisoning our national life," said Grayling. "No one would permit such venom in person, so there should be no place for it on social media. That is why we are determined to quadruple the current six-month sentence."
Meanwhile Ched Evans, whose case sparked the Madeley controversy, was released yesterday and vowed to clear his name.
Fans chanted his name at the team's away match at Bradford City.
Sky News presenter Charlie Webster says she will quit from her position as Sheffield United patron if Evans is reinstated, telling Radio 5 Live: "You will have young people cheering him on when he scores a goal. Not under my name."
Sky News was embroiled in troll-related controversy when it confronted Brenda Leyland, who had posted abusive messages about the parents of Maddie McCann. Leyland, 63, was found dead in a hotel room a short time later.