While we eagerly await the highly anticipated release of iOS 5.1 untethered jailbreak, the veteran hacker and iOS security researcher - Stefan Essar (aka i0n1c) - has released a photo demonstrating successful jailbreak on the new iPad running iOS 5.1.1. We may recall his earlier success jailbreaking iOS 5.1 and his latest achievement includes minor feature enhancements and bug fixes to the software.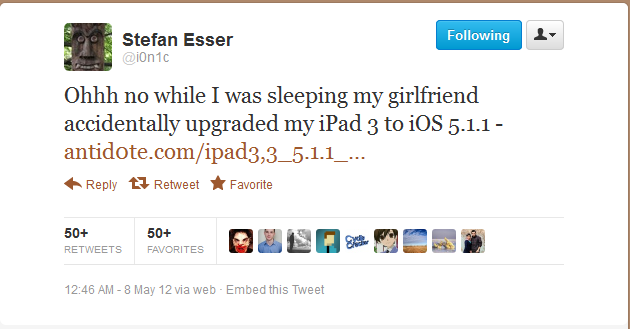 "Ohhh no while I was sleeping my girlfriend accidentally upgraded my iPad 3 to iOS 5.1.1," tweets the veteran hacker - i0n1c, while also publishing a photo depicting Cydia running on his 4G LTE capable iPad 3 running iOS 5.1.1.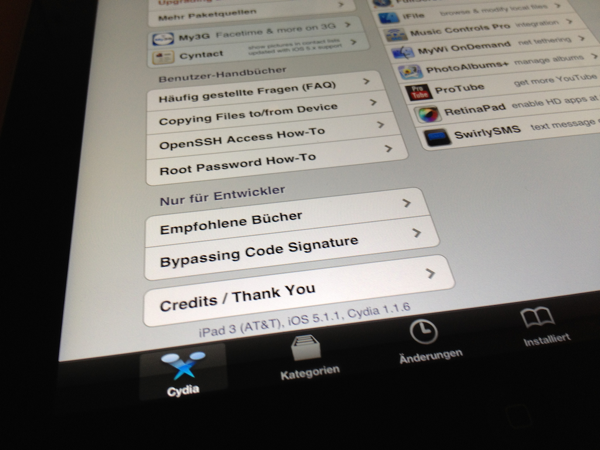 The quick update actually means that the exploit used on the untethered jailbreak for iOS 5.1 is also functional with the new update - iOS 5.1.1. According to iPhonehacks, the public release of the untethered jailbreak for the new update is still not ready and i0n1c clearly asserts that he has no plans to release it.
Despite Cydia reporting that his jailbreak uses iPad 3(AT&T version), i0n1c clarifies that he actually used 4G LTE iPad 3 on Verizon's network. "BTW You have to blame Saurik for the AT&T stuff in Cydia. He wrongly calls iPad3, 3 the iPad3 AT&T," says i0n1c, clarifying the doubt in the minds of jailbreak users.
Meanwhile, pod2g has successfully jailbroken his iPhone 4 untethered on iOS 5.1. It is not clear if his exploits employed in iOS 5.1 have been patched by Apple in its new update - iOS 5.1.1. It is to be noted that pod2g has not commented on the new iOS software update yet, which makes us believe that he may be working on a solution for the new update as well.
On the other hand, MuscleNerd reveals ways of downgrading iOS 5.1.1 to 5.0.1 by employing the unreleased method that iH8sn0w discovered a little while earlier.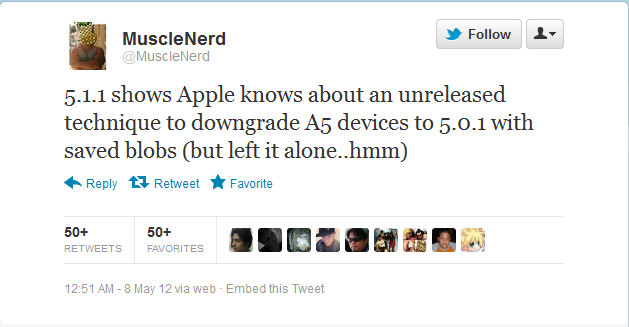 "5.1.1 shows Apple knows about an unreleased technique to downgrade A5 devices to 5.0.1 with saved blobs (but left it alone..hmm)," tweets MuscleNerd, hinting at the latest update.
According to Apple's release notes, iOS 5.1.1 includes the following improvements and bug fixes:
Improves reliability of using HDR option for photos taken using the Lock Screen shortcut
Addresses bugs that could prevent the new iPad from switching between 2G and 3G networks
Fixes bugs that affected AirPlay video playback in some circumstances
Improved reliability for syncing Safari bookmarks and Reading List
Fixes an issue where 'Unable to purchase' alert could be displayed after successful purchase