It has been just a week since Apple released the iOS 5.1.1 firmware for the iPhone, the iPad and the iPod Touch and the community of veteran hackers led by pod2g are busy unearthing new exploits for the update. Although the latest iOS update brings no new major changes or features, it has kept jailbreakers on a tight leash by patching up all exploits found in earlier iOS versions.
Pod2g, the leading French hacker working as an iOS security researcher, is perhaps the only jailbreak developer who has some clue about the release of next iOS untethered jailbreak. His recent blog update suggests the next iOS untethered jailbreak for iPhones, iPads and iPod Touch running iOS 5.1.1 will be coming in a couple of weeks.
The hacker recently conducted a public poll asking for people's opinion on the release of untethered jailbreak for iOS 5.1.1. The question was whether to release the jailbreak now or save the exploits until the release of iOS 6. As many as 64 percent voted to release the iOS 5.1.x untethered jailbreak right now. However, it would have really helped if the exploits were not exposed until the release of iOS 6, as there is every risk Apple could patch up existing exploits in the next major iOS update - iOS 6.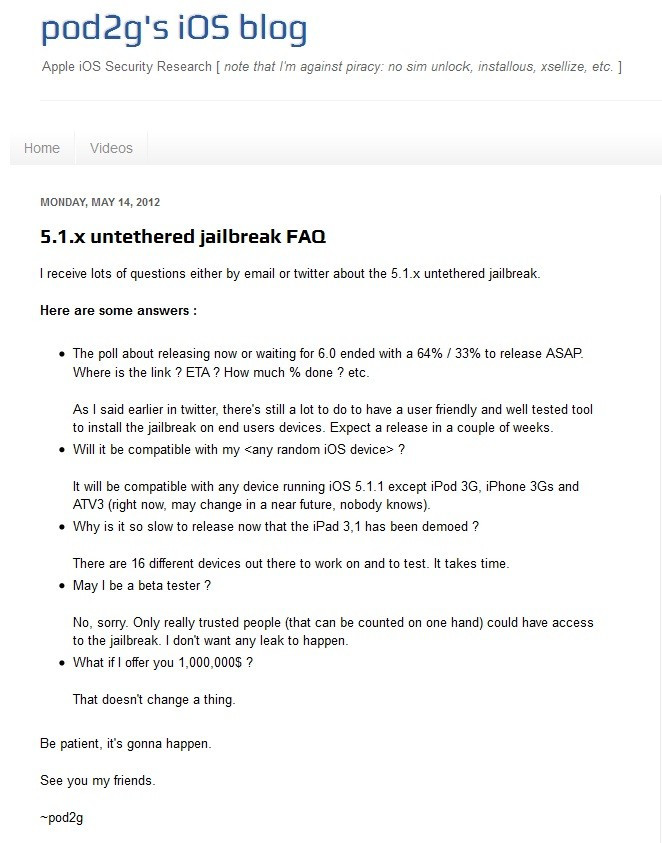 It is very much evident that pod2g is giving in to pressure from users who are demanding the iOS 5.1.1 untethered jailbreak release right now and hence his announcement citing the release of the new jailbreak in a couple of weeks is of no surprise.
Pod2g earlier demonstrated his success in jailbreaking both the iPhone 4 and the iPad 3 running iOS 5.1.x with his exploits. i0n1c too joined the party with a leaked photo of his iOS 5.1.1 untethered jailbreak exploits. Nevertheless, a lot of work is yet to be done before the jailbreak can be packaged for a public release.
It should be noted that iOS 5.1.1 untethered jailbreak will be compatible with the new iPad, the iPad 2, the iPhone 4S, the iPhone 4, the iPod Touch 4G and Apple TV 2G. Currently the jailbreak is said to be incompatible with the iPhone 3GS, the iPod Touch 3G and the new third generation Apple TV. However Pod2g asserts this could change soon.
MUST READ: iOS 5.1.1 Untethered Jailbreak: Pod2g Confirms Exploits Work on iPads 1 and 2
MUST READ: iOS 5.1.1 Untethered Jailbreak: Will it Release at the Upcoming 'Hack In The Box' Conference?