The community of jailbreakers is eagerly awaiting the public release of the highly anticipated untethered jailbreak for iOS 5.1. This is particularly an important jailbreak because of the sheer demand for the programme and the need to jailbreak Apple's newest product - the new iPad.
We need hardly add the considerable hype and pressure surrounding the launch of the company's flagship tablet; all of which has only increased since its launch, with the focus now on jailbreaking it. Indeed, several iOS hackers did claim to have successfully jailbroken the device. However, while the pieces of the puzzle have largely fallen into place, there are still technical issues in assembling the programme for a distributable release.
Meanwhile, veteran hacker Pod2g's latest success involved breaking the Address Space Layout Randomisation (ASLR) puzzle which could prove vital in bringing the untethered jailbreak for the iOS 5.1 closer to reality. Unfortunately, his latest updates do not sound rosy.
Pod2g's latest Twitter update hints at a delayed release date for the public distributable version owing to undisclosed technical constraints faced by the hackers, reports cydiahelp.
Here is what Pod2g had to tweet: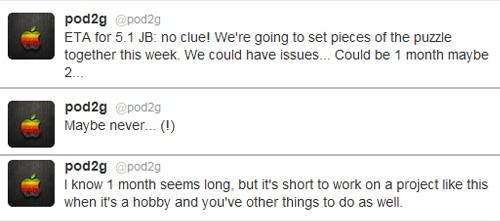 "ETA for 5.1 JB : no clue! We're going to set pieces of the puzzle together this week. We could have issues... Could be 1 month maybe 2... Maybe never... (!) I know 1 month seems long, but it's short to work on a project like this when it's a hobby and you've other things to do as well," the hacker explained.
The beta version of this untethered jailbreak (for the next-gen iPad) surfaced 24 hours after the product's release. Nevertheless, Pod2g suggests we may have to wait for about two months more for the public release.
According to CydiaHelp, discovering the exploits is just the beginning of the process. The biggest challenge restricting the community of jailbreakers lies in assembling the pieces of the exploits to achieve a stable jailbreak. At the moment, both Pod2g and the Chronic Dev Team are actively working on developing this jailbreak together and once the final version is ready, it will feature on all major jailbreaking tools including Redsn0w, Sn0wbreeze and Absinthe.
One may recall that iOS 5.1 has already been jailbroken on non-A5 devices but using a tethered process - which means you will have to boot your iOS device in jailbroken state every time you reboot it. For those users who want to perform tethered jailbreaks on iOS 5.1 with iPhone/iPad/iPod Touch using Redsn0w, click here and for Sn0wbreeze, click here.
MUST READ: iOS 5.1 Jailbreak: Using Redsn0w 0.9.10b8 to Backup Your iPhone's Unlock Activation Ticket [GUIDE & VIDEO]
MUST READ: iOS 5.1 Untethered Jailbreak: New Status Update for iPhone 4S, iPad 2 and New iPad from Pod2g and Chpwn