iOS hackers, iH8sn0w and winocm, have released an update to p0sixspwn, an untethered jailbreak for A5+ devices running iOS 6.1.3-6.1.5.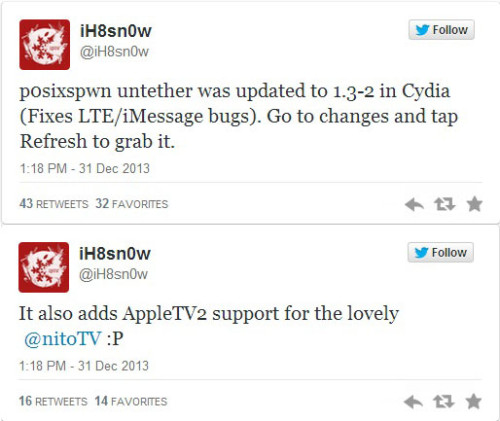 Winocm, iH8sn0w and SquiffyPwn have just released p0sixspwn, which is an untethered jailbreak for A5+ devices running iOS 6.1.3-6.1.5. Mac users having A5+ devices running iOS 6.1.3/6.1.4/6.1.5 may navigate to the p0sixspwn.com site and download the untethered jailbreak. But Windows users will have to wait for a while, as the Windows version, when clicked says that is still pending.
Following the release, iH8sn0w and winocm have announced that the p0sixspwn untether has been updated to 1.3-2 in Cydia. This update addresses a few bug issues such as data connectivity, iMesage and iCloud, apart from adding support for Apple TV 2
"p0sixspwn untether was updated to 1.3-2 in Cydia (Fixes LTE/iMessage bugs). Go to changes and tap Refresh to grab it," tweets iH8sn0w, "It also adds AppleTV2 support for the lovely nitoTV."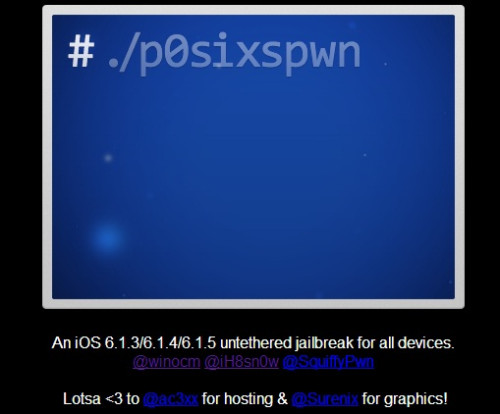 Those who have already jailbroken their devices running on 6.1.3- iOS 6.1.5 and are facing any of those aforementioned issues (such as LTE, iMessage) should install p0sixspwn 1.3-2 package from Cydia to fix the issues.
Those facing issues - No Data, No LTE and other - may try this fix below.
Step-1: Install OpenSSH via Cydia (Or, optionally perform this as root in Mobile Terminal)
Step-2: SSH in to your phone via Terminal (Mac/Linux) or PuTTY (Windows)
Step-3: Type the following command
chmod 755 /var/mobile/ /var/mobile/Library/ /var/mobile/Library/Preferences/
Step-4: Reset Network Settings (Go to Settings>> General>> Reset)
The hackers have not updated p0sixspwn tool currently; so, even if you use this to jailbreak your device, you will have to install the p0sixspwn untether 1.3-2 package.
p0sixspwn works on iOS 6.1.3, 6.1.4 and 6.1.5 and supports the following iOS devices.
Compatible devices
iPhone 3GS, iPhone 4, iPhone 4S, iPhone 5
iPod touch 4G, iPod touch 5g
iPad 2, iPad 3, iPad 4 and first iPad mini
Those who wish to install p0sixspwn untether jailbreak on their A5+ devices running on iOS 6.1.3- iOS 6.1.5 may follow our step-by-step guide.
How to install untethered jailbreak on A5+ devices on iOS 6.13/6.1.4/6.1.5
Step-1: Go to http://p0sixspwn.com/
Step-2: Click on Mac OS X (10.7+). Download the zip file using Google Chrome
Note: If you have problems downloading the file via Safari then use Google Chrome or Firefox to download it.
Step-3: Once the download is completed, double click the zip file to unzip it. It will give you the tool
Step-4: Right-click on the p0sixspwn tool and click Open
Step-5: Plug in your selected device
Step-6: Disable the passcode
Step-7: Click Jailbreak and follow the on-screen instructions
You have successfully installed an untether jailbreak on your device.
Must read: iOS 7 Untethered Jailbreak: Fix Issues with Jailbreak Tweaks by Reinstalling Mobile Substrate
[Source: iPhone hacks]