iOS 7.1/iOS 7.1.1 Untethered Jailbreak: How to Jailbreak iPhone, iPad and iPod Touch with Pangu on Windows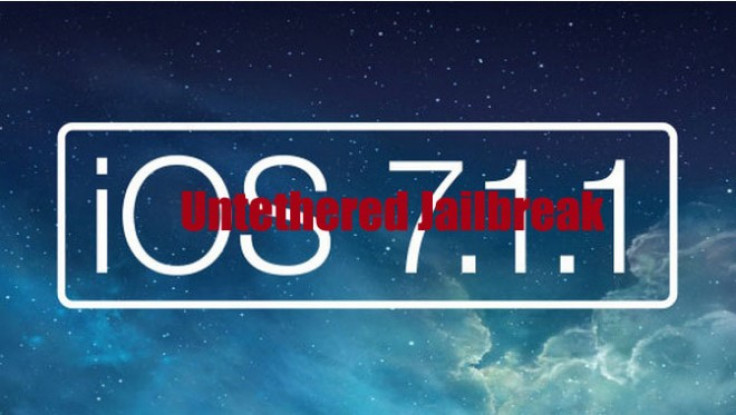 A mysterious Chinese jailbreak developer team has just released a new untethered jailbreak tool for iOS devices running iOS 7.1 through iOS 7.1.1 called "PanGu" with Chinese GUI pre-installed.
List of Compatible Devices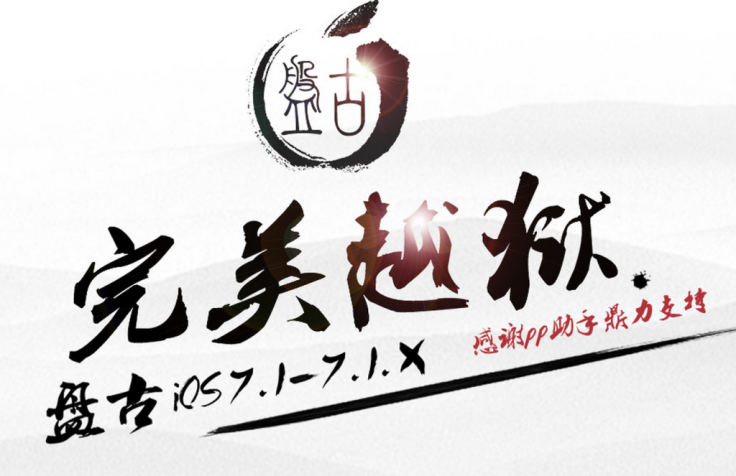 The Pangu jailbreak tool is said to be compatible with the following iOS devices: iPhone 4, iPhone 4s, iPhone 5, iPhone 5c, iPhone 5s, iPod touch 5G, iPad 2, iPad 3, iPad 4, iPad Air, iPad mini and iPad mini with Retina Display.
Pangu Jailbreak Tool Contents and Cydia Functionality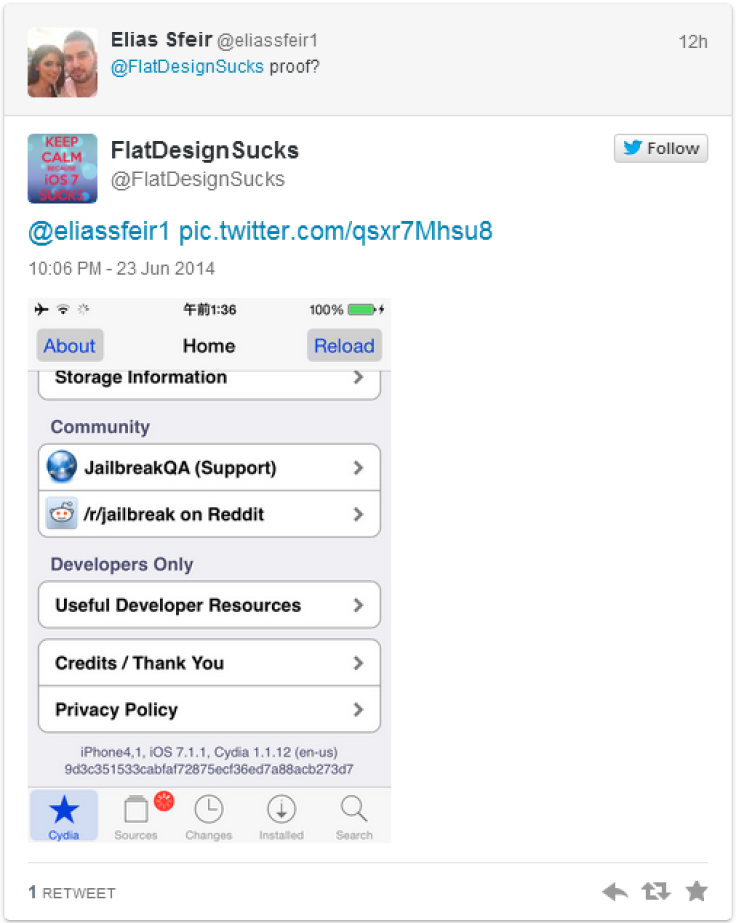 The jailbreak tool is presently available for the Windows platform, while the Mac version is still under development. The jailbreak executable file for Windows is reportedly over 70MB in size and devoid of any malicious content or malware.
However, the veteran jailbreak developer and hacker, iH8sn0w, confirms in his recent tweet that the Pangu jailbreak tool ships with piracy store and enterprise certificate, without any traces of spyware or malware.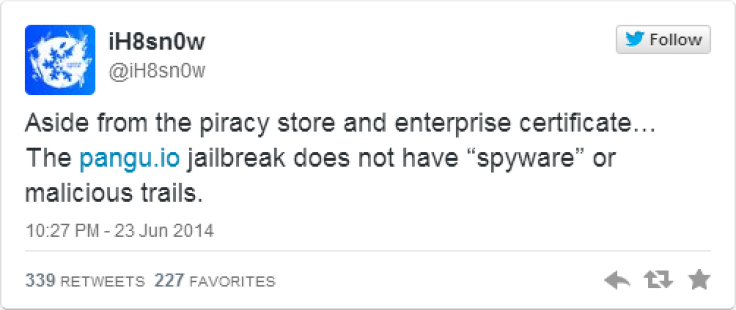 In addition, iH8sn0w has also confirmed that the jailbreak tool works flawlessly on his iPad 4 with Cydia installed.
Several other iOS users who used the software have also sounded affirmative about the Cydia functionality with the new jailbreak installed.
Here are a few comments from Reddit users who have successfully installed the jailbreak on their device running iOS 7.1.x:
"I appear to have Cydia, but also some super sketchy Chinese app. Mixed feelings."
"me done .....ios 7.1.1. on my iphone 5 ... thanks a tun for Panguuuuuuuuuuuuuuuuuu"
"Just a heads up to those who went through with the install: In Cydia, you can easily remove the PP Chinese app that was installed with the jailbreak. No worries there! In other news, I have biteSMS installed and running smoothly on my 5S which was never jailbroken (came with 7.1). Seems to be legit. As far as spyware/keyloggers/etc., I can't confirm if it's safe."
"This does work, it basically asks you to set the date to January 2nd, and then touch the weird app it installs, but it does install cydia!"
Exploits Used in Pangu Jailbreak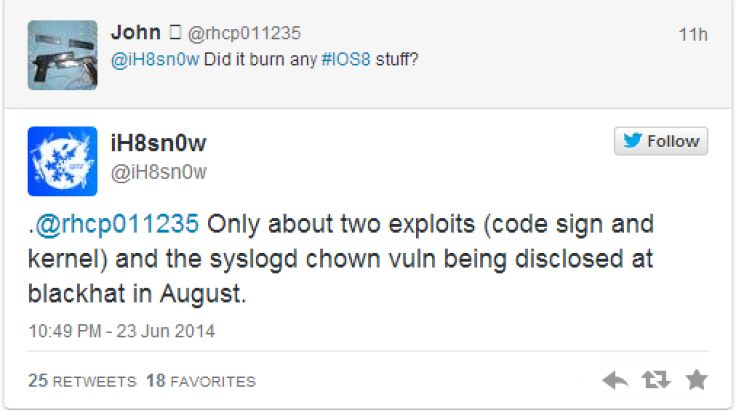 In response to a fan query on Twitter, iH8sn0w has revealed that the jailbreak burns just a couple of exploits (codesign and kernel) along with syslogd chown vulnerability that was disclosed at the Black Hat hacking conference in August.
Several members of the evad3rs team including MuscleNerd have confirmed that it is safe to install this jailbreak.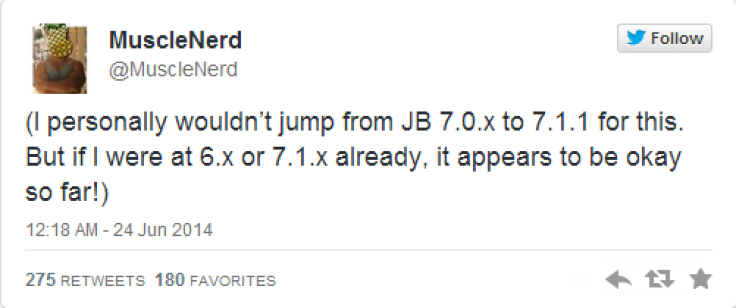 MuscleNerd also tweets that it is not necessary to upgrade your device to iOS 7.0.x just to install the new jailbreak, especially if your device is already jailbroken with evasi0n7.
Interested users can follow the step-by-step guide below to jailbreak iOS 7.1.x untethered using PanGu for Windows.
Pre-requisites
Ensure your iOS device is listed in the jailbreak compatibility section before you proceed.
Disable the passcode on your device to prevent issues with jailbreaking by navigating to Settings > General > Passcode Lock On > Turn Passcode Off.
Back up important data on your device via iTunes.
Ensure the latest version of iTunes (download here) is installed on your computer.
Note: Jailbreaking a device may void its warranty. IBTimes UK advises users to proceed with caution and at their own risk.
Steps to Jailbreak iOS 7.1.x Untethered with Pangu for Windows
Step 1: Download the latest version of Pangu jailbreak tool from here.
Step 2: Connect your iOS device to the computer via USB cable and back up important data through iTunes.
Step 3: Run Pangu_v1.0.exe on Windows computer as an Administrator. To do this, right click on pangu.exe and choose "Run as Administrator".
Step 4: You might see a window with Chinese character set on it. Just uncheck the small checkbox to the left and then click the black jailbreak button on the right (check video for more details).
Step 5: Follow the onscreen instructions and then change the date to 2 June 2014 via Settings > General > Date and Time on the device. Also disable the Set Automatically toggle.
Step 6: Let the jailbreak process begin and finally you will see the Pangu app icon on Home screen. Tap the Pangu icon to continue the jailbreak process and install Cydia.
Step 7: The device may reboot several times during the installation and it may take about 10 to 15 minutes to complete the jailbreak setup. So, do not interrupt the process and leave the computer alone.
Step 8: Once the jailbreak process completes, you will see a welcome message saying: "enjoy your new jailbreak".
Step 9: Wait for a few minutes after unlocking the screen and Cydia will appear on the home screen. It is now possible to install Cydia tweaks and apps on your device running iOS 7.1.x.
For further assistance, check out the video tutorial below:
See Also: iOS 7.1.1 Untethered Jailbreak: How to Remove PPSync From Pangu Jailbroken Device to Prevent App Crashes and Stability Issues
[Source: iDownloadBlog]
© Copyright IBTimes 2023. All rights reserved.