iOS 7 Jailbreak Tweaks: How to Gimmick Fingerprint Sensor and Speed up Animations
Discerning iOS 7 users who are craving for fingerprint functionality on non-Touch ID devices need not fret, as it is now possible to add a fake fingerprint sensor to any jailbroken device to emulate Touch ID features of the iPhone 5s.
Cydia has now introduced a new jailbreak tweak called Bio, which fakes the security aspects of a fingerprint scanner without actually replicating the functionality of Touch ID sensor.
In other words, Bio is a jailbreak tweak with novelty factor and solely aimed at fooling unsuspecting friends or colleagues into believing that the fingerprint scanner actually works on a non-Touch ID enabled device.
Jokes and pranks apart, Bio can seriously mimic the toggles, settings and user-interface preferences of a typical fingerprint scanner.
As iDownloadBlog reports, once the Bio app is installed, a new preference panel becomes available via Settings app with options to tweak the look, shape and colour of the fingerprint scanner interface.
How to Use Bio App to Fake Fingerprint Scanner Functionality in iOS 7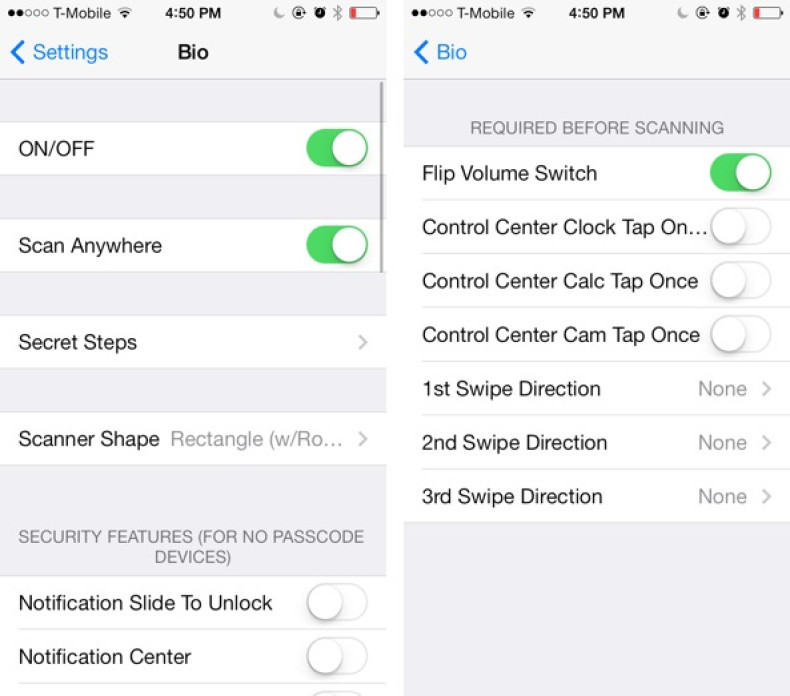 Once the Bio app is installed and configured to your requirements, just lock the device.
Now the fingerprint scanner interface should appear on the Lock screen.
Just place your finger on the scanning surface and you will see a line going back and forth to emulate the scan process.
The device should eventually get unlocked, provided you have disabled the passcode on it.
Tip: Those who are unhappy with the lack of real security options with this tweak can still use a few preferences such as mute switch to activate the fingerprint locking mechanism. The lock can only be opened by toggling the mute switch which can take unsuspecting onlookers by surprise.
The Bio jailbreak tweak is now available via Cydia's BigBoss repo at $1.99.
Check out Bio's fake fingerprint scanner in action in the demo video below:
Speed Intensifier for Faster iOS 7 Animations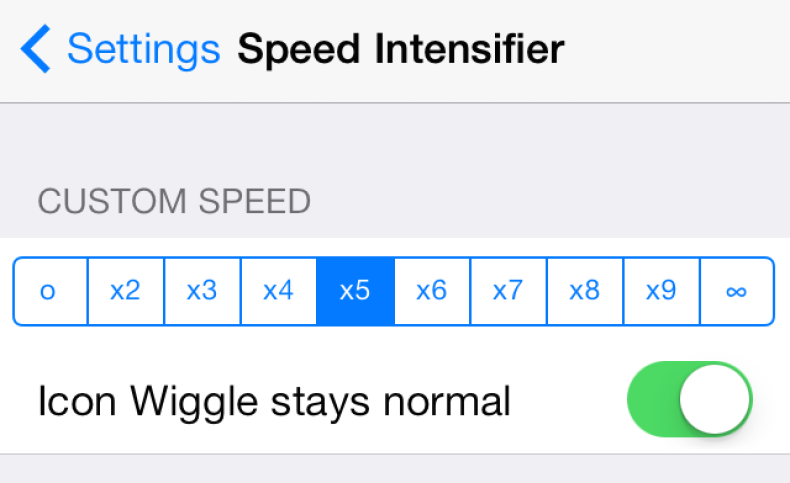 Another useful jailbreak tweak, Speed Intensifier, is out on Cydia's ModMyi repo. It is available for free download and the latest version is updated to support iOS 7 with arm64 devices such as the iPhone 5s.
In a nutshell, Speed Intensifier speeds up iOS 7 animations without changing the settings, themes or the trademark icon style of iOS 7. It does this by simulating a faster speed for animations in iOS 7.
After installing the Speed Intensifier, you can manually adjust the speed of animations via stock Settings app under preferences. In preferences, go to custom speed section and select among various options ranging from zero all the way up to infinite.
NOTE: The x5 speed is said to be optimal for most cases, while infinite option gives you the maximum animation speed. On the downside, infinite speed makes it appear as if contextual animations are absolutely non-existent.
Tip: It is best to set the Wiggle animation mode to normal to avoid freezes while using the Speed Intensifier app.
For further assistance, check out the video tutorial below (courtesy of iDownloadBlog):