The Evad3rs recently rolled out the highly-anticipated bug-fix for iPad 2 (Wi-Fi) boot loop issues via Evasi0n7 1.0.2 jailbreak update for iOS 7. Though the latest evasi0n7 updates have been instrumental in fixing a number of important bugs, they have failed to address a common "Configuring System 2/2 error" while installing evasi0n7 on slower computers.
Reports suggest that several evasi0n7 users have complained about getting stuck at a particular step (2/2) while jailbreaking their device, due to the alleged "Configuring System (2/2) error" with Evasi0n. At this point, the system reportedly remains idle with no response to the user's input.
Though the evad3rs have not revealed the minimum system requirements for installing evasi0n7, the veteran iOS jailbreak developer and hacker pod2g has suggested that the jailbreak community use a faster computer.
Here is what pod2g had to say in his recent Twitter update: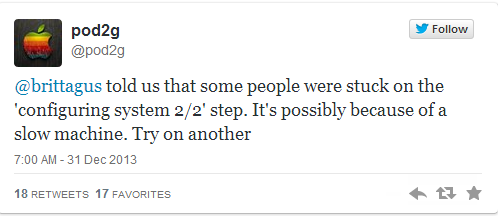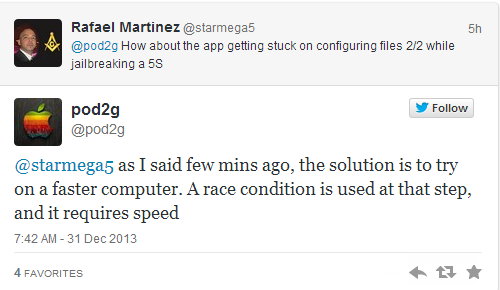 The issue seems largely prevalent on Windows systems, particularly affecting those running Windows on a virtual machine due to a "race condition", wherein speed is required. Quite disappointingly, affected users have reportedly replied to Pod2g stating that they already own faster computers to get the job done.
As Redmond Pie reports, the error could be caused due to low amounts of free RAM, which may be resolved either by rebooting the device or closing certain background apps that consume considerable system memory. If the error still persists, one may try using another computer for installing the evasi0n7 jailbreak.
Must Read: iOS 7 Untethered Jailbreak: Evasi0n7 1.0.2 Update Fixes iPad 2 (Wi-Fi) Boot Loop Issue [How to Install]