iOS 9: Here are all new features and improvements in Apple's new software update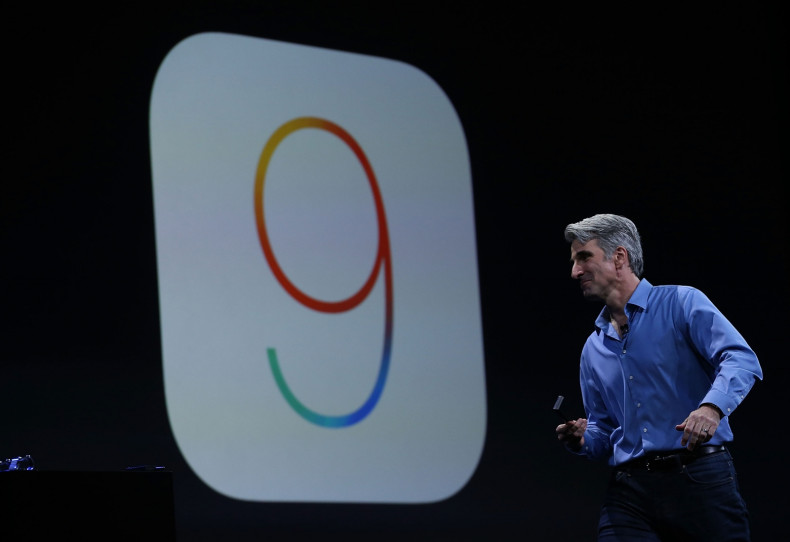 Apple has rolled out its ninth iOS mobile operating system, unveiled at its 2015 Worldwide Developers Conference, as a free software update for iPhone, iPad and iPod touch owners across the globe. Apple claims the update makes the iOS devices more intelligent and proactive with new enhancements that include improved Siri, new multitasking features for iPad and built-in apps. These new additions further enhance performance and security while extending battery performance. Here is a detailed list of changes you should be able to experience upon updating your device to iOS 9.
Intelligence
Proactive assistance
Presents relevant information even before you start typing
Notifies you when you need to leave for appointments using traffic conditions
Learns what you listen to in a certain location or at a particular time of day and can automatically display playback controls for your preferred music and audio apps
Suggested events and contact details are added to apps based on information found in Mail
Siri improvements
Search your personal photos and videos based on dates, locations and album names
Ask Siri to remind you about things you are looking at in your apps, including Safari, Mail, Notes and Messages
Request directions via public transit
Spotlight search improvements
Get sports scores, weather conditions and stock prices
Simple math calculations and conversions
Initiate messages, phone calls and FaceTime calls from contact search results
New iPad Features
Slide Over
Quickly use a second app without leaving the one you are in
Easily switch between Slide Over apps
Support for Apple apps and enabled third party apps
Split View
View and interact with two apps at once
Ability to resize your view to give equal attention to both apps or prioritise one app over another
Support for Apple apps and enabled third party apps
Picture in picture
Continue watching a video while using your favourite apps
Support for Safari video, FaceTime, Videos and Podcasts and enabled third party apps
QuickType improvements
Multi-Touch gestures for easier text selection on iPad
Quick access to text editing tools with Shortcut Bar on iPad
Support for hardware keyboard shortcuts
Support for all Unicode emoji flags
Built-in Apps
Map improvements
Support for public transit lines, station details with exits and entrances, schedules and directions in select major cities
Browse for places around you by category, including Food, Drinks, Shopping, Fun and more
Apple Pay support is indicated on place cards at participating retail locations
Place cards include Wikipedia information for landmarks and cities
Redesigned Notes app
Add photos to your notes with the built-in camera or from your Photo Library
Create useful checklists and check off completed items with a tap
Sketch a quick thought using just your finger
Save interesting items directly from other apps using the Share menu
All-new News app
Read your favourite newspaper, magazines, and blogs, or choose from over a million topics
Beautiful typography and layouts, photo galleries, videos, animations, and more
Browse articles that are chosen based on your interests in For You. Find channel and topic recommendations in Explore. News gets more personalised the more you read
Easily share articles with friends or save them to read later — even when you are offline
Mail improvements
Search improvements help you quickly find what you're looking for by filtering results based on sender, recipient, subject or a combination of options
Support for Markup lets you annotate an image or PDF attachment with text, shapes and even your signature, then send it back — without leaving Mail
Easily save the attachments you receive or add files from iCloud Drive or other document providers while composing a new message
Apple Pay and Wallet improvements
Support for Discover cards
Support for rewards cards and store credit and debit cards
To check out even faster, you can prepare an upcoming payment by double-clicking the Home button from the Lock Screen and keeping your finger on Touch ID
New iCloud Drive app
Easily search for a file or browse in the new iCloud Drive app by date, name, or tags you added on your Mac
Open files in any compatible app or share with those you choose
Organise folders and files
Get the iCloud Drive app in Settings > iCloud > iCloud Drive and select Show on Home Screen
CarPlay improvements
Plays back audio messages, letting you hear from people in their own voices
Full support for car knob controls, so you can tilt and spin to scroll through lists or pan around in Maps
Support for CarPlay apps from auto manufacturers
Foundation
Longer battery life
Up to one hour of additional time before you need to charge your battery
Facedown detection for turning display off when not in use
Low power mode optimises device performance to extend battery by up to an additional three hours
Software updates require less space to download and offer an option to install later
iOS apps and user interface now use Metal to deliver faster scrolling, smoother animation, and better overall performance
Improved security with two-factor authentication support and a default six digit passcode support for Touch ID devices
Other improvements
New San Francisco system font
Leave a message option if recipient is not available for a FaceTime call
Share voicemails from the Phone app using the share sheet
Flight and package tracking for data detectors
Health app adds support for reproductive health, UV exposure, water intake and sedentary state data types
HomeKit adds support for motorised windows and shades, motion sensors and home security system accessories
Podcasts has an all-new design, makes it easy to find the latest episodes of your favourite shows and notifies you when new episodes become available for you
Support for Wi-Fi calling on iPad, iPod touch and Mac, without iPhone in proximity on participating carriers
Wi-Fi Assist to automatically use cellular data when Wi-Fi connectivity is poor
Transfer content from an Android device with the Move to iOS app, visit http://www.apple.com/move-to-ios for more details
Expanded language support
New PingFang Chinese system font
Improved predictions, learning and autocorrection for Chinese in QuickType
Redesigned punctuation input on 10-key Chinese keyboard
Redesigned User Interface for right-to-left languages
Added Siri support for Austria, Belgium (French and Dutch), and Norway
Added Spotlight search support for Mexico
New keyboards for French (Belgium), German (Austria), Gujarati, Hindi (Transliteration), Hinglish, Punjabi, Spanish (Mexico), and Telugu
Predictive input for French (Belgium), German (Austria), Korean, Russian, Spanish (Mexico), and Turkish
Dictation support for Dutch (Belgium), English (Ireland, Philippines, South Africa), French (Belgium), German (Austria), and Spanish (Chile, Colombia)
Spell check for Finnish and Korean
Definition dictionary for Hindi, Norwegian and Swedish
Bilingual dictionary for French-English and German-English
New Japanese autocorrection and improved predictions and learning in QuickType
Option to switch between number systems for Arabic and Hindi
Enterprise & Education
Assign apps directly to iOS devices without needing to have an iTunes Store account configured
Improved calendar reliability for customers using Microsoft Exchange ActiveSync v16
Expanded Per App VPN support for the built-in IPSec and IKEv2 VPN clients
New networking controls for managed apps to help limit international data roaming costs
New restrictions to prevent changes to passcodes, device names and wallpapers, or to disable AirDrop on managed devices
Third party app extension support for VPN, advanced content filtering, and captive Wi-Fi networks
Accessibility
Touch Accommodations provides additional touch control for those with physical motor limitations
Switch Control Recipes to customise features or create your own
Support for Siri Voices for VoiceOver users
Additional customisation of AssistiveTouch
Hardware keyboard support for Key Repeat, Slow Keys and Sticky Keys
Improved MFi hearing aid audio routing to choose where audio is played
However, note that all the features will not be available in all regions. Click here to learn more about the security content in iOS 9.