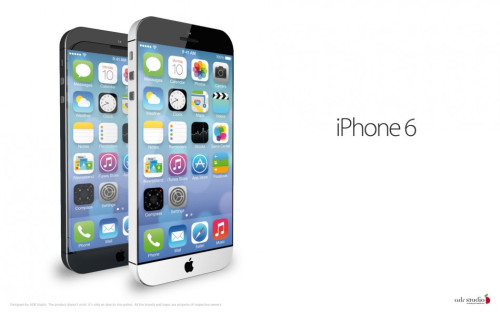 The iPhone 6 could arrive as early as June and feature a 4.7in display, to be followed by a larger 5.7in iPhone later in the year.
Speaking to Chinese technology website QQ Tech, local technology analyst Sun Changxu claimed Apple will break with tradition in announcing the next-generation iPhone in June - possibly at its annual Worldwide Developer Conference.
The new model, to be Apple's eighth smartphone, will get a 4.7in display with a resolution of 1136 x 640, the same as the 4in iPhone 5s currently on sale, the analyst claims; this would see the iPhone's pixel density drop from 326 to 277 pixels per inch, some way behind its high definition rivals.
5.7in iPhone
Following this, the analyst reckons Apple will announce a huge 5.7in iPhone later in the year, aimed at competing with the Samsung Galaxy Note 3, HTC One Max and Sony Xperia Z Ultra in the 'phablet' market.
Although Changxu's claims of a reduced pixel density could be off the mark, predictions of a larger iPhone for 2014 have circulated through the Apple rumour mills for some time, ever since the iPhone 5s arrived last year.
Bloomberg sources claimed in November that Apple has two new models of iPhone planned for release in the second half of 2014, both of which will be larger than the 5s and feature a curved design, whereby the display will drape over the edges of the phone.
Speak publicly
The sources suggested screen sizes of 4.7in and 5.5in would be used, tallying closely with Changxu's comments, as well as those made by industry researcher DisplaySearch, which offered the same estimations.
As always, Apple is yet to speak publicly about its plans for future iPhones, and while industry sources can be reliable, development of prototype devices with various screen sizes make it difficult to accurately predict Apple's intentions until closer to the release date.
For a guide to all of the latest iPhone 6 rumours and expectations, visit our dedicated page, which will be updated regularly until the new phone is officially announced.