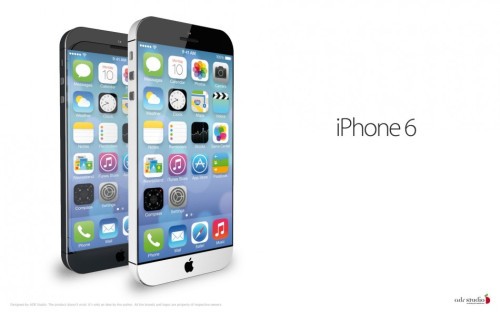 The Touch ID fingerprint scanner for Apple's upcoming iPhone 6 will enter mass production in the second quarter of 2014, suggesting a rumoured early 2014 release date is out of the question.
Taiwan Semiconductor Manufacturing Company (TSMC) is to produce the component, which is expected to be integrated with the smartphone's Home button, as it is on the iPhone 5s, where it can be used to unlock the phone and buy iTunes content without the user entering their PIN or password.
In order to ensure the yield rate will remain in line with Apple's notoriously demanding targets, TSMC is expected to handle the manufacturing of the scanner and all associated hardware in-house instead of subcontracting the process, as it has previously done, reports DigiTimes.
The Q2 2014 production of the new Touch ID sensor suggests the release date for the iPhone 6 is likely to be in September/October time, in line with recent iPhone releases.
Larger screen for iPhone 6
In other iPhone 6 news, industry researcher DisplaySearch has made its forecast for 2014, in which it claims the iPhone 6 will offer a new screen size, larger than the 4in iPhone 5s currently on sale.
This is in keeping with rumours from Apple's supply chain which claim the company is developing a larger smartphone to keep pace with the ever-expanding screens of the competition.
Tallying with previous reports, DisplaySearch says it expects Apple to offer an iPhone with either a 4.7in or 5.5in display; the former is thought to have a resolution of 900 x 1600 and a pixel density of 386 pixels per inch (ppi), while the larger panel will measure 1080 x 920 and have a density of 401ppi.
Both displays offer a higher resolution and pixel density than Apple's current 4in offering, which has a resolution of 640 x 1136 pixels with a pixel density of 326ppi - remaining unchanged since the iPhone 5 was launched in autumn 2012.
As for rival Android handsets, DisplaySearch expects them to be bigger still, measuring between 5.7in and 6.2in, but both with a resolution of 1440 x 2560 pixels, and pixel densities of 515ppi and 474ppi respectively.
iWatch and iPad Pro
DisplaySearch has also shown its hand in relation to the widely rumoured iWatch, a smart watch thought to be in development and due to be announced by Apple later this year.
The company claims the iWatch screen will measure either 1.3in or 1.6in with a pixel density of either 348ppi or 278ppi.
Finally, the also-speculated iPad Pro is believed to be getting a 12.9in screen with a resolution of 2732 x 2048 pixels, according to DisplaySearch's predictions.
As always, Apple is yet to say anything official about these upcoming devices, but given its recent launch cycle a new iPhone is to be expected in the autumn, while an iPad Pro makes sense, given the tablet lineup already comprising mini and Air models, borrowing from the naming convention of Apple's iPod and MacBook lines.