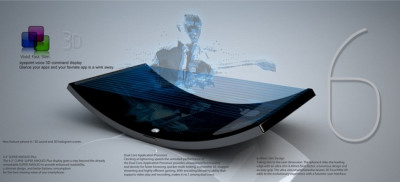 Even though Apple has not yet launched its iPhone 5, that hasn't stopped people speculating about the iPhone 6 smartphone. The concept designs of the iPhone 6 look striking and unique. The iPhone 6 is expected to launch in July 2013 but unsurprisingly the tech giant has not made any official announcement so far.
Here we list the most anticipated features of the iPhone 6:
[1] Display
According to rumours, the iPhone 6 could boast of a curved screen. The tech giant has contacted G-Tech and Fuji-Crystal which are the leading lens technology companies. The companies are the chief sources to supply the necessary equipment in polishing curved glass. In addition, Apple has reportedly purchased 200 cutting machines which are required for cutting a curved screens.
[2] A6 chip
The smartphone is expected to come with an advanced A6 chip, since there are overheating issues with the A5 chip. Moreover, the A5 chip may not handle the improved features with the A6 chip promising quad-core processing power.
[3] Battery
Speculation is rampant that the iPhone 6 could incorporate the Organic Radical Battery, which is eco-friendly as well as power efficient. The amazing battery is resistant to repeated charge-discharge cycles of high output. The battery is expected to maintain 75 percent of the charge even after 500 charging and discharging cycles.
Start the slideshow to check out the stunning iPhone 6 concept designs: