8.01pm: Well that's all from us folks, thanks for sticking with us. You can find out more about the iPhone 6 and iPhone 6 Plus here, the Apple Watch here and Apple Pay here. Thanks!
7.59pm: U2 finish their performance and announce their new album. Tim Cook says it will be available for free for every iTunes customer. "We're not in it for the free music here," Bono retorts, rather uncharitably considering the altruistic aura he likes to waft from his person.
Fortunately it seems the Irish ensemble have struck a deal with Apple, meaning all 500 million iTunes customers can now download it for free. I wonder how much that set them back?
7.56pm: One final picture for you showing the size differences between the new iPhone 6 models and the iPhone 5S.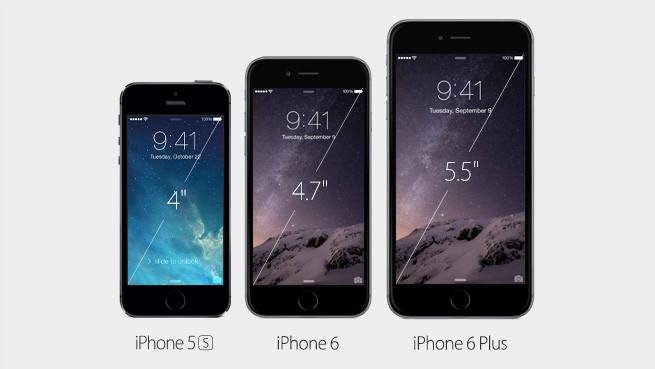 7.54pm: It seems like U2 are going to play us out here. Tim Cook says that U2 had "agreed" to perform for them today. Might have something to do with the new album that's out today.
7.51pm: Bono is here.
7.48pm: Price time. The Apple Watch will cost $349 and will be available "early next year". That's more than its rivals but that's not very surprising. "It will redefine what people expect from a watch," Cook says.
7.46pm: Tim Cook apparently uses his to control his TV, one of his colleagues uses it as a viewfinder for their iPhone camera. One maverick friend of his uses it as a walkie talkie. Now that's a game-changer.
7.44pm: Are these features enough to transform the wearables market? Currently Android Wear watches retail for between $200 and $300. If the Apple Watch comes in that price bracket then it might just.
7.41pm: Unsurprisingly, Apple Pay will also work through the Apple Watch.
7.37pm: Jay Blahnik, director of fitness at Apple, claims during a video presentation that the Apple Watch will "change the way we look at fitness". The phrase that he and Cook are using a LOT is "helping you live a better day". Prepare for the billboards.
7.34pm: Tim Cook is back on the stage. "It's amazing what you can do with your wrist," he says. He's talking about the fitness features of the Apple Watch - and not just for casual users, for "serious athletes".
Tim Cook:
Apple Watch gives the ability to motivate people to be more active and healthy. If you're someone who wants to be a bit more active or track what you do during the day or perhaps you exercise regulary, or even if you're a very serious athlete, Apple Watch helps you.

Users can send messages via the Apple Watch

Apple
7.31pm: One interesting feature is that the Apple Watch can be used to unlock doors. Starwood Hotels will let you unlock your hotel room door with the smartwatch using its NFC function. There will surely be some security concerns following Apple's ongoing iCloud saga...
7.28pm: It can be charged wirelessly through an inductive charging pad that magnetically alligns to the back of the watch.
7.24pm: The Apple Watch is covered with a curved screen made of sapphire glass, capable of detecting pressure. It also features a vibrating haptic feedback and a loud speaker. Coldplay is currently pumping out round the Flint Center.
7.23pm: Kevin Lynch: "The Taptic Engine creates a feeling that is noticeable to you, but not to anyone else."
7.18pm: By rotating the crown you can change the watch face, including one called the Astronomy face.
7.15pm: There are three iterations of Apple's smartwatch: Apple Watch, Apple Watch Sport, Apple Watch Edition. They come with leather, metal and plastic bands.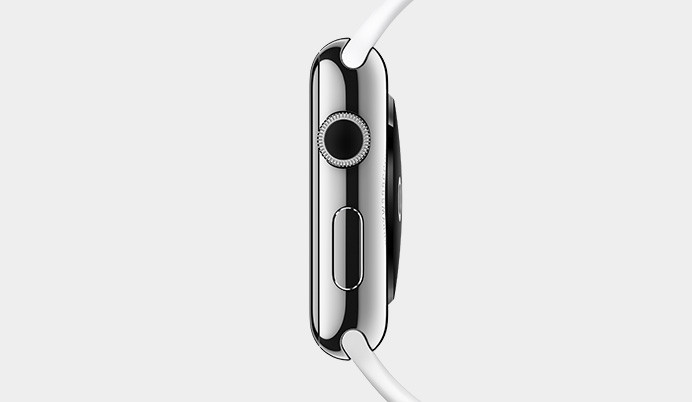 7.13pm: The Digital Crown is apparently a versatile tool that solves the fundamental challenge of how to magnify content on a small display.
7.09pm: Spouting about Apple's history of innovation (iPod introducing the click wheel, iPhone introducing multi-touch), Cook says that the Apple Watch's big innovation is its "Digital Crown".
7.05pm: And here she is: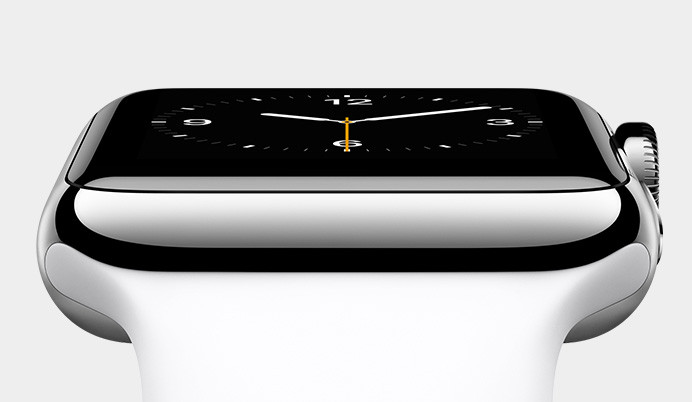 7.03pm: Tim Cook: "We set out to make the best watch in the world, one that is precise, that's synchronized with an international time standard."
7.00pm: The much-anticipate wearable is here. And it's not called the iWatch, just Watch.
6.56pm: As expected, the iPhone 6 will be available for purchase on September 19 - just 10 days from now.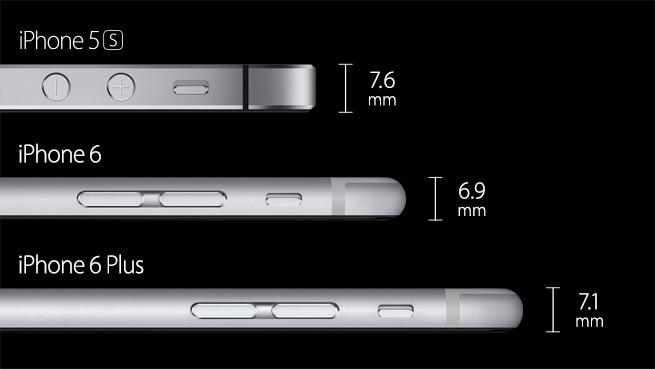 6.53pm: Eddie Cue says that Groupon is incorporating Apple Pay in its app and will be available in the US from October. It will be available for the rest of the world in the "near future".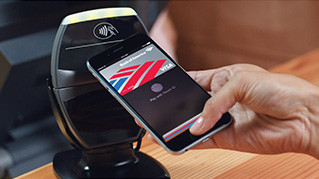 6.49pm: It's called Apple Pay and Eddy Cue is here to tell us more about it. Aaaand there's the three magic letters everyone has been waiting to hear: NFC.
6.46pm: He's talking about the lack of security of credit cards. People in glass houses Tim...
6.44pm: Tim Cook is onto payments now...
6.41pm: Schiller: "These aren't only the best phones in the world but they're the best value as well." Hmmm... I think we'll have to wait and see with that one.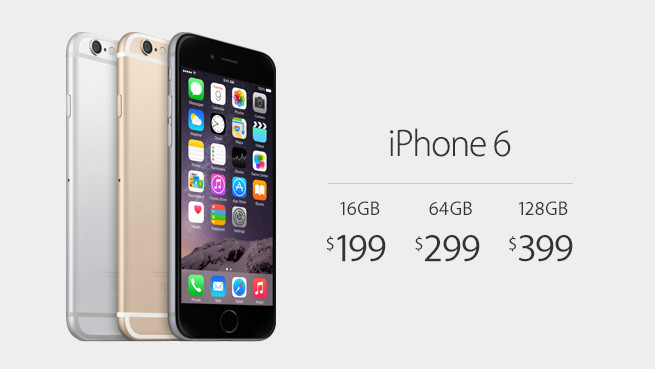 6.38pm: The iPhone 6 will cost $199 with a two-year contract and will come in gold, silver and "space grey". The iPhone 6 Plus will come in the same colours but will cost $299 with a two-year contract.
6.34pm: Social media is going crazy with people complaining about the problems with Apple's live-streaming of the event.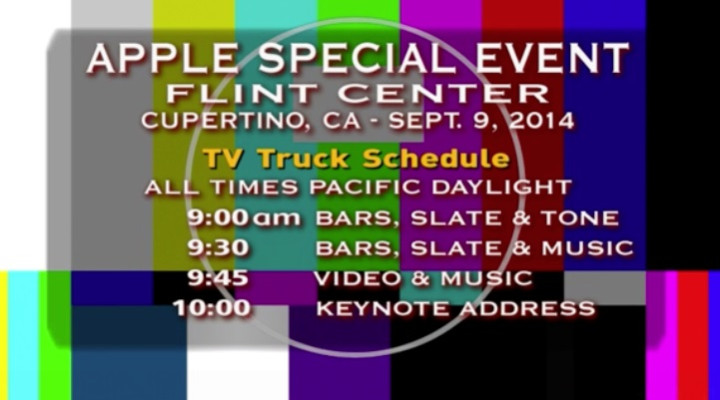 6.32pm: Also as widely expected, the iPhone 6 will feature an 8MP camera. It features "True Tone flash" and "Focus Pixels" that help the sensor focus faster and better.
6.29pm: Some more photos for you: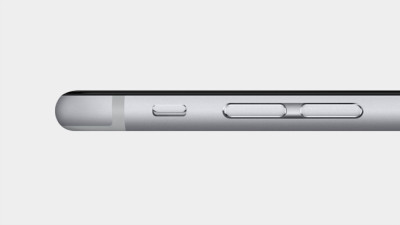 6.25pm: The iPhone 6 is to feature a barometer. That was one that featured in our rumour round-ups. It will be able to sense air pressure and measure relative elevation - apparently that's useful for fitness apps. You can now tell if you're going up or down hill just by looking at your phone.
6.23pm: Both devices will feature the powerful A8 processor chips, which Schiller claims are 50% more power-efficient than A7 chips.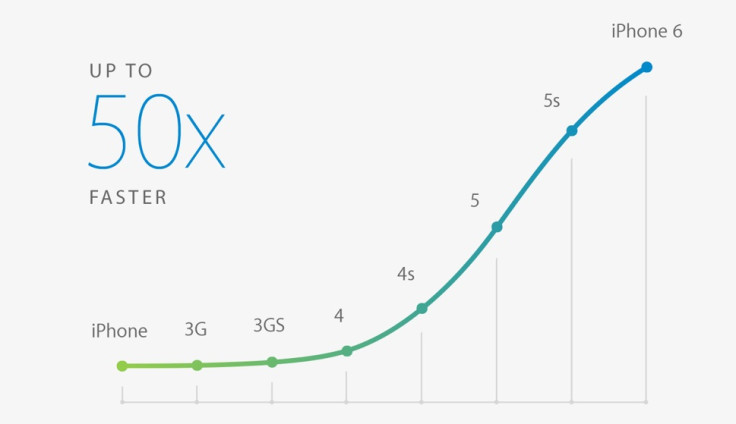 6.20pm: Schiller notes that there are now more than 1.3 million apps available for the iPhone. A new tool called Xcode makes it easier for software to scale. It also waorks on apps that haven't been updated yet.
6.16pm: A new feature for the iPhone 6 and iPhone 6 Plus is called Reachability. It makes controlling a large device with one hand easier by allowing you to slide the screen around with one finger to reach different parts of it.
6.12pm: Phil Schiller, who's been with Apple since 1997, is on stage. He describes it as "truly the most beautiful phone you have ever seen".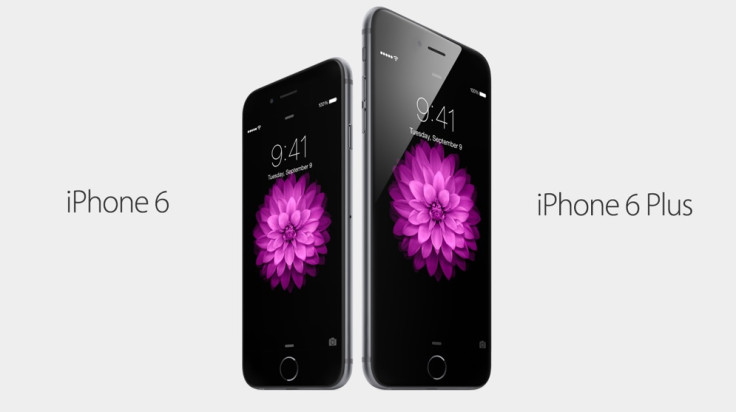 6.10pm: The two phones have been unveiled. They're called the iPhone 6 and the iPhone 6 Plus. Tim Cook has called it the "biggest advancement in iPhone".
6.07pm: Many people on social media are reporting problems with the live streaming of the event. Very glitchy with us too. Stay tuned.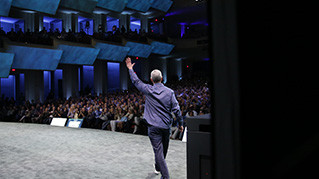 6.04pm: Apple CEO Tim Cook is on stage, he gives a nod to the importance of the venue. Big applause for the mention of Steve Jobs.
6.03pm: The intro video is playing. "To those who have always seen things differently, to the ones who follow a vision." The usual Apple spiel.
6pm: Here we go...
5.58pm: Apple's live stream is up and running now. You can watch it here from any Apple device. You can also watch it if you download the Safari web browser, though this method doesn't seem to be working for us.
5.50pm: Just 10 minutes to go now. Press are making their way in.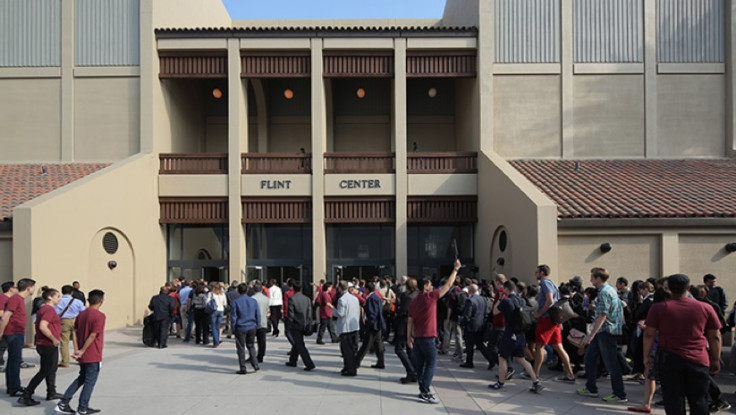 5.43pm: Self-confessed Apple addict Stephen Fy has just announced that he is in Cupertino for the event.
5.39pm: If it isn't a smartwatch that Apple has developed, then it might be a smart fitness band. Here's @bowlerhatbear's vision:
5.35pm: Slater won't be too pleased to hear the views of Ross Sleight, chief strategy officer at mobile solutions firm Somo:
I'd be very surprised to see Apple include NFC in the next release of the iPhone. I would expect them to come up with a more aggressive approach to support iBeacons, rather than turning their support to NFC.
5.30pm: A new feature on the iPhone 6 that many are hoping for is near-field communication technology (NFC).
Australian Ben Slater in particular will have his fingers tightly crossed, having recently implanted an NFC-compatible chip into his hand in anticipation of the smartphone's launch.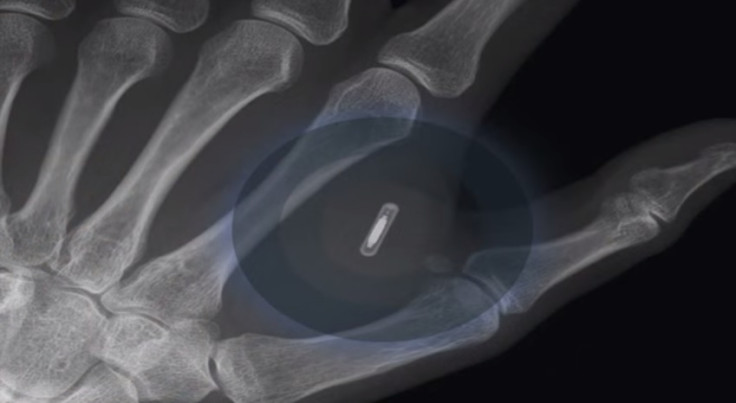 5.25pm: As always at major Apple events, protests are also taking place alongside the media queues at the Flint Center. Recent reports from Green America claiming that iPhone and iPad suppliers had endangered the safety of 20,000 factory workers.
5.15pm: Press and Apple employees are gathering outside the Flint Center in Cupertino, the place where Steve Jobs first unveiled the Macintosh computer.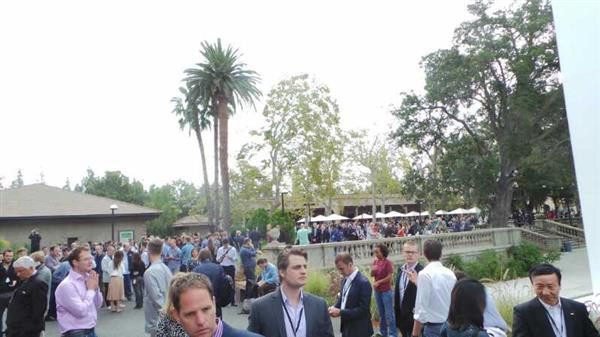 5.06pm: Less than an hour to go now...
4.59pm: Plenty of artists and graphic designers have had a crack at guessing what the iWatch might look like. Here's some of the best concept art we've come across: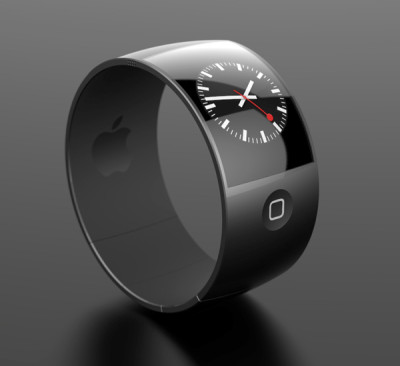 4.45pm: And what about wearables? Smartwatches are appearing ever-more frequently on the market, though none have yet truly caught the public's imagination. Could Apple's iWatch change this? Not according to Dave Hampshire, a senior interactive designer at Somo:
I'd be disappointed if it is just a watch – even the name iWatch doesn't give me goosebumps. I'm yet to be heavily impressed with any of the watches that I've seen and experimented with, and if as the rumors are saying the wearable will be priced between £250 and £400 then it'll be vastly out of my price range. For me I hope it's a form of ring, similar to the Nod or even Ringly. Something like that would get me excited!
4.35pm: So why exactly is Apple finally opting for a larger-screened device? The 4.7inch and 5.5inch versions will bring the company up to speed with Android's offerings, which have seen the likes of Samsung, Sony and HTC all make flagships in the 4.5inch to 5.5inch range.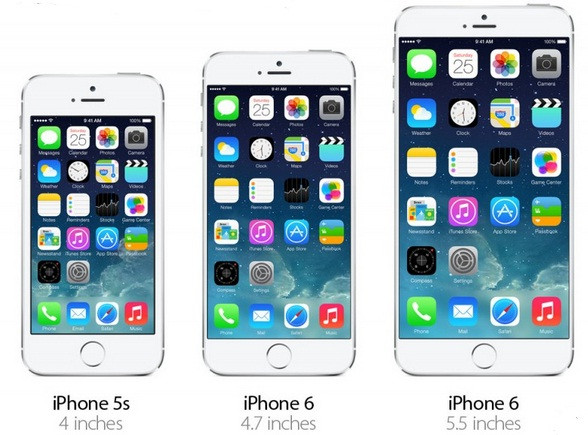 However, some analysts have suggested that current iPhone users are happy with their smaller device.
Detailed polling from Qriously found that less than a third of the 8,750 existing iPhone users polled in the UK would currently upgrade to the new flagship device.
4.25pm: Just over an hour until the event kicks off now. In terms of the iPhone 6, it seems that there won't be too many surprises. Apple's supply line is about as leaky as dear Liza's bucket and new pictures and specs have been emerging almost daily.
Just yesterday, a full list of specs was picked up from CultofMac, reportedly from sources in China.
4.05pm: Here at IBTimes UK we've been running weekly rumour round-ups for the iPhone 6 since April. That's five months (worse than the build-up to Christmas, I know) of gossip, tittle-tattle and idle speculation about everything and anything that might be included in Apple's latest device.
You can find the full series here. It includes everything from solar-panelled screens, to weather sensors...
3.49pm: Apple has built a giant white structure outside the Flint Center in Cupertino, California - the same place Steve Jobs showed off thefirst ever Macintosh computer.
The structure is made up of five conjoined cubes - could that be one for each product released? (Two iPhones, two iWatches and one iPad Air?)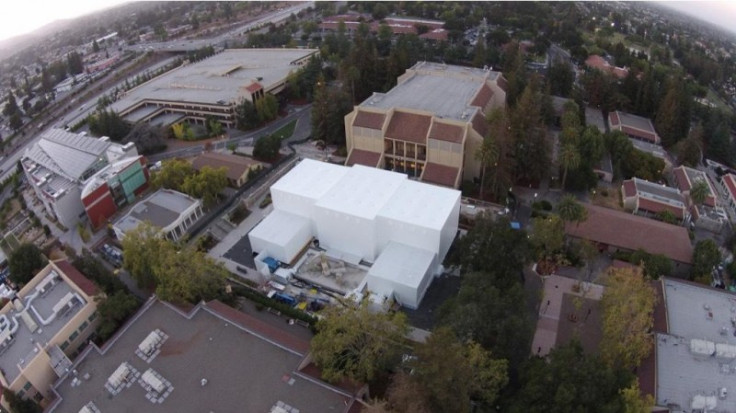 3.30pm: Good afternoon everyone, after months of rumours and speculation surrounding Apple's next smartphone, the wait is finally over. This time last year we were introduced to the iPhone 5S, but if reports are to be believed, the Cupertino company has a lot more up its sleeve for us than just a new phone.
Firstly, the latest generation of the iPhone should be coming in two plus-sized versions. Secondly, a wearable device is widely rumoured to be unveiled. If that isn't enough, there are also whispers of a new iPad Air.
The event is due to kick off at 10am local time in San Francisco (6pm UK time) and we'll be updating this blog with comment, analysis and rumours ahead of Tim Cook's opening address.
For now, why not have a look at our in-depth guide to everything we know so far about the iPhone 6 and the iWatch.