One of the major developments out of Apple's 9/9 event was the launch of Apple Pay, the tech giant's move into the mobile-payments market.
"One-touch checkout, no card number entry, no need to type addresses, no card information shared with merchant," Apple announced at their big press conference.
Apple Pay can be used by both iPhone 6's and also the new Apple Watch, with transactions approved using fingerprint recognition.
Near Field Communications, more commonly known as NFC, is technology that allows smartphones and other devices to wirelessly communicate with each other and also other devices using a touchless, short distance connection.
It's multi-purpose tech, but NFC is seen primarily as the way to use mobile phones to 'talk' to the payment point of stores (or other things) so as to pay for items quickly.
Basically, your mobile device can act as your credit card.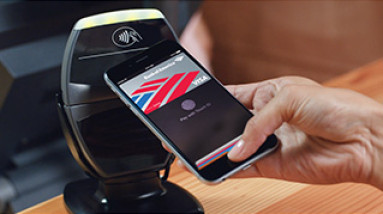 Top banks such as Barclays will handle over 80% of the Apple Pay's credit card purchase volume.
According to the NFC Forum, there are three varieties of the technology: tag reader and writer, device to device, and card emulation.
Tag reading allows people to scan NFC-tags using their smartphone to activitate retail doo-dads such as special offers and coupons.
Device-to-device allows smart devices to communicate, and trade files and photos etc. It's sort of like Bluetooth.
The big one is card-emulation, and this is what Apple is banking on. Something called a secure element cycles random security pins that enable a smartphone such as an iPhone 6 to pay at a store with a couple of taps and swipes at the checkout.
Apple is striking at the right time as well, with more and more retailers experimenting with NFC - over 220,000. That's why it could afford to wait despite Google racing ahead with mobile payments, first introducing its Wallet back in 2011. It is available on several Android phones.
Starting in October, with iPhone 6 and iPhone 6 Plus, Apple Pay will be available in the US as a free update to iOS 8.