Apple is set to make a major announcement on Tuesday, or more probably several announcements, with speculation of new iPhones, iPads and even an iWatch.
Rumours have been circulating about the Cupertino company's latest smartphone since even before the launch of the iPhone 5, with Apple fan sites, blogs and rumour mills churning out any tit-bit, half-truth and speculative scrap of information they can get their hands on.
Despite Apple not acknowledging that there is even such a device in existence, there have been enough leaks from over-excited blabber mouths and poorly-paid factory workers that quite a lot is already known.
Following five months of weekly iPhone 6 rumour round-ups, IBTimes UK has the definitive guide to everything we know so far.
---
Two models
---
For many months it has been believed that Apple plans to launch two different-sized models of the iPhone 6.
Both are larger than the 5c and 5s, with a 4.7-inch version and a 5.5-inch version. This second size, which stretches into the realms of phablet, has been widely-referred to as the '6L'.
It's not known how much the two will differ in terms of specs, but if either of the two is to be more powerful it will likely be the larger device.
---
Sapphire Screen
---
One of the most popular rumours surrounding the fabled device has been the inclusion of sapphire crystal in its screens. One test of a screen purportedly smuggled out of one of the factories excited viewers in the material's scratch-proof, stamp-proof attributes.
However, all of this may be wishful thinking. Rumours last month emerged that Apple was experiencing difficulties in its supply chain, meaning only certain versions will feature the super-strong material.
Most recently, the Guardian suggested that Apple may opt for a blend of sapphire crystal and glass.
---
13-megapixel Sony camera
---
Rumours surrounding the iPhone 6 camera have suggested that the eight-megapixel sensor on current iPhone models is to be replaced by Sony's Exmor IMX220, which features a 13-megapixel sensor.
This upgrade is expected on both models, though the sleek design that previous iPhone incarnations have been known for may be sacrificed in favour of practicality.
Leaked pictures have suggested that the camera will actually poke out of the device, owing to the new slim-line nature of the larger-screened smartphones.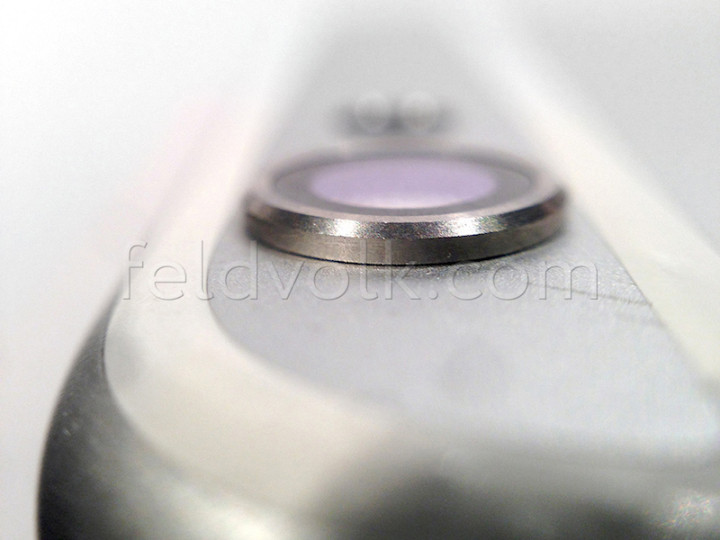 ---
iOS 8 Software
---
At Apple's Worldwide Developer Conference (WWDC) earlier this year, the company's latest mobile operating system iOS 8 was unveiled.
The main focus was on the new HealthKit and HomeKit platforms, hinting at a shift into the wearable technology and automated home space.
Both iPhone 6 devices will run the new software, which also features third-party keyboards, improved maps, interactive notifications, widgets and family sharing.
---
A8 processor and battery life
---
According to a recent survey from Finances Online, the most desired feature for the new iPhone isn't a bigger screen or an improved camera, it's better battery life.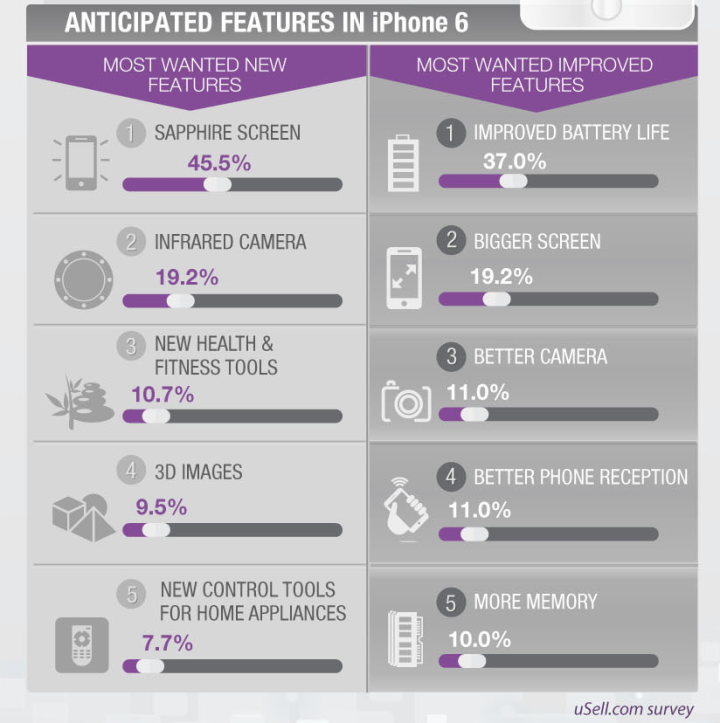 The inclusion of a new efficient A8 processor and new power-saving features in iOS 8 suggest that this is an area that Apple is taking seriously.
The revamped processor was confirmed by VentureBeat last month, who reported that the A8 will run at a frequency of 2.0 GHz per core and will create noticeably faster response time and graphics rendering in the new phones.
---
Release Date and Price
---
Both models are expected to be announced on Tuesday, 9 September. If previous trends are anything to go by then at least one of them will be available for pre-order on Friday, 12 September and will then go on sale in countries around the world the following Friday.
There has been some debate about whether or not Apple will want to release both devices at the same time due to direct competition issues, and if this is the case then it is likely the 6L will be the second to be released.
As for the price, speculation ranges from anything between £450 and £750. It can be assumed that the larger 6L model will be the more expensive of the two.
Having said all that, really anything is still possible. For all we really know, it could be a hot dog.