At least 56 inmates have been executed in the largest state prison in Iran since 6 May, an NGO has warned, adding that the prisoners are often killed after being forced to make confessions under torture.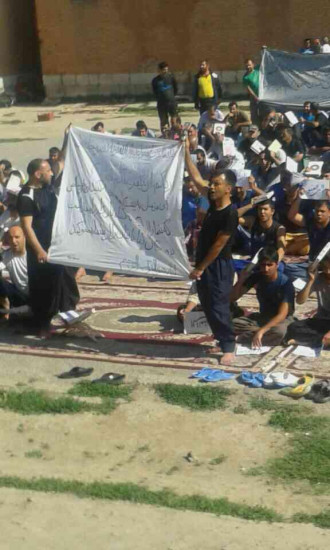 Some 34 of the prisoners recently killed at Ghezel Hasar, northwest of the capital Tehran, were executed after they had gathered in the prison yard to ask Iran's Supreme Leader Ali Khamenei for forgiveness, Mahmood Amiry-Moghaddam, spokesperson for Iran Human Rights (IHR), told IBTimes UK.
The inmates were all charged with drug-related offences. According to the country's penal code, drug trafficking and drug possession crimes are punishable with death sentences, usually carried out by hanging, stoning and shooting.
"All of the prisoners are sentenced to death for drug charges, and all are from Unit 2 of the prison,where more than 2000 death row prisoners are being held," Moghaddam said. "They are subjected to torture, forced confessions and unfair trials.
"The mass executions started after some of the prisoners gathered to ask forgiveness. Instead, 34 of those who gathered outside were executed.
"The situation is very desperate. We don't know what to do. There are no international reactions," he continued.
"At least 450 people have been executed in the first five months of 2015 in Iran. The number of executions is even higher than last year."
When interviewed by IHR, one of the inmates on death row at Ghezel Hasar said: "They take about two people at a time out of our hall and execute them. Then they bring 20 more people to the prison. Nothing changes, the cycle repeats. They should try out forgiveness for once.
"Honestly, what we did [to end up in prison] doesn't warrant death. The least they can do is give [first time offenders] a second chance so we may resume with our lives."
IBTimes UK contacted the Iranian embassies in London and Italy but did not receive any comment at the time of publishing.
Saman Naseem still missing
Speaking about the case of Saman Naseem, a 24-year-old man sentenced to death at the age of 17 and whose whereabouts are today unknown, Moghaddam said: "Nobody has seen him. Some sources have said that he is still alive and is in another prison; some say Zanjan prison, some say Tabriz, some say somewhere else.
"There is no official news about his whereabouts and no one has spoken to him or seen him."
Naseem was sentenced to death after being charged with "enmity against God" and "corruption on Earth", following a gun battle in Sardasht between the Revolutionary Guards and Kurdish militant organisation PJAK, of which he is believed to be a member.
On 19 February 2015, the day scheduled for the execution, Naseem went missing from his cell suggesting that he was executed or transferred to an undisclosed location following outrage for the sentence, which is in breach of both domestic and international laws that forbid capital punishment for juvenile offenders.
Naseem was only 17 when he was arrested and Iran has ratified treaties that oblige the country to refrain from the death penalty for individuals under the age of 18.
The Islamic republic allows capital punishment for juveniles in case of "qesas" (retribution-in-kind) and "hodoud" (offences and punishments for which there are fixed penalties under Islamic law). However, article 91 of the Islamic Penal Code excludes the death penalty if the juvenile offender did not understand the nature of the crime or its consequences, or if there are doubts about their mental capacity.