Iran's president Hassan Rouhani appeared to have tweeted confirmation that a deal has been struck with regards to the country's historic nuclear deal before swiftly deleting it.
After previously saying a deal with Iran and other major world powers was "very close", Rohani sent a tweet to his 350,000 Twitter followers saying a deal had been agreed.
He wrote: "Iran deal is the victory of diplomacy and mutual respect over the outdated paradigm and exclusion and coercion. And this is a good beginning."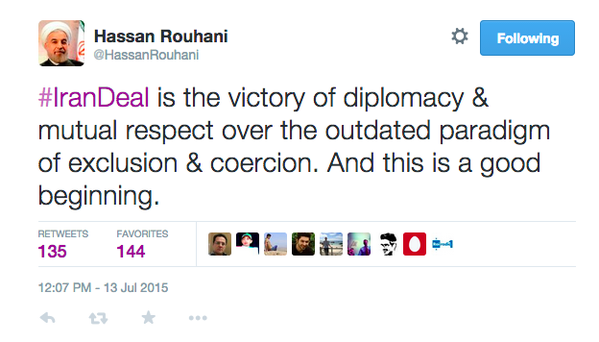 However, the tweet was soon removed. As the talks continue, Rouhani later sent a retweet from Iran's Foreign Minister Javad Zarif which says: "If Iran Deal reached, triumph of diplomacy means we all will have won when we all could have lost. Plain and simple; no spin needed."
Just to add to the confusion, Rouhani sent the almost the exact same tweet again before a deal was formally announced but this time adding an "if" to the start.
Iran and the so-called P5+1 – the US, UK, France, Russia, China and Germany – are said to have drawn up a 100-page report detailing how the country will cap its nuclear programme in exchange for sanction relief after 13 years of dispute.
"We have come a long way. We need to reach a peak and we're very close," Rouhani said in Tehran, according to Iranian news agency ISNA.
"We are so close that if you look down from below you feel as if we have got there, but when you do get there, you know there are still some steps to take."