Iran continued to support "terrorist-related activity", as well as providing broad military support to President Assad of Syria, said the US State Department in its annual report on global terrorism.
Palestinian terror groups, Lebanese Shia militia Hezbollah, as well as groups in Iraq continued to receive Iranian backing, according to the report.
It described Iran's elite Quds Force as the country's main means "for cultivating and supporting terrorists abroad".
Neither the election of President Hassan Rouhani, regarded as a moderate who has sought rapprochement with the West, not the prospect of a nuclear deal which would see economic sanctions eased, has affected Iran's involvement in conflict in the Middle East, the report suggests.
"In 2014, Iran continued to provide arms, financing, training and the facilitation of primarily Iraq Shia and Afghan fighters to support the Assad regime's brutal crackdown," the report said.
"Iran remained unwilling to bring to justice senior al-Qaeda members it continued to detain and refused to publicly identify those senior members in its custody," it added.
It depicts Iranian foreign policy as aggressively at odds with US foreign policy on several fronts.
In Iraq, where the US and Iran have a common foe in Islamic State (Isis), Iranian-backed Shia militias are accused of human rights abuses which foster sectarian tensions.
Isis supplants al Qaeda
IS has supplanted al-Qaeda as the world's leading terrorist group, according to the report.
The "unprecedented" growth and brutality of the jihadist group, as well as its sophisticated propaganda operations and capacity to inspire "lone wolf" attackers in the West has allowed it to take al Qaeda's place as the world's leading terrorist organisation, according to the report.
The threat from al Qaeda, the report notes, "diminished" in 2014, with significant losses in its core leadership in Afghanistan and Pakistan, it notes, "AQ leadership also appeared to lose momentum as the self-styled leader of a global movement in the face of ISIL's rapid expansion and proclamation of a Caliphate."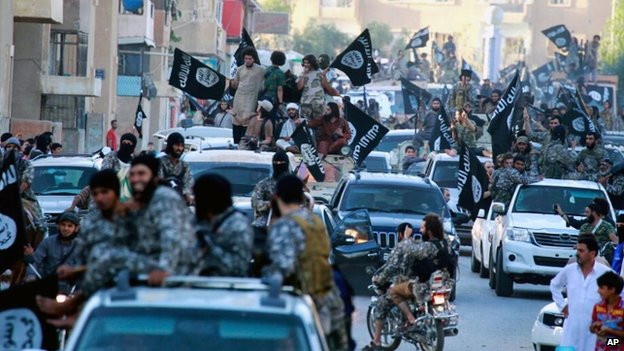 Though concerned about al Qaeda, the number of extremist groups worldwide aligning themselves with Isis as well as the flow of fighters from around the world to the group's territory in Syria and Iraq was a growing concern, spokeswoman Tina Kaidanow, told a news conference.
It said the group was responsible for the deadliest terrorist attack since, 9/11, when it murdered 670 Shia prisoners after seizing Mosul in northern Iraq.
The report highlighted the group's use of social media platforms including Twitter, Facebook and YouTube to inspire sympathisers to carry out attacks abroad or travel to join the group.
The report said there were 13,463 terrorist attacks in 2014, a 35% jump from 2013, resulting in more than 32,700 deaths, an 81% rise. More than 9,400 people were kidnapped or taken hostage by militants, triple the rate of the previous year, it said.
More than 60% of all attacks took place in six countries: Iraq, Pakistan, Afghanistan, India, and Nigeria.
Weak governments were described as enabling the growth of jihadist groups not just in Syria and Iraq, but in countries including Yemen and Libya.