Iran is reportedly holding a military exercise on Saturday (4 February) to test its missile and radar systems, a day after US President Donald Trump imposed sanctions on Tehran for a recent ballistic missile test.
The Islamic republic is remaining steadfast in its stance that its actions were in accordance with the 2015 nuclear deal, despite Trump's national security adviser Michael Flynn saying the US was putting Iran "on notice" over its "destabilising activity".
Iran's Revolutionary Guards website said that the aim of the military exercise in Semnan province, in the north of the country, was to "showcase the power of Iran's revolution and to dismiss the sanctions", reported Reuters.
The country's medium-range missiles can reach 2,000 kilometres (1242m), sufficient to strike Israel or US bases in the Gulf.
However, the Revolutionary Guards said that the missiles deployed for Saturday's exercise would only be of very short range – up to 75km.
"Different types of domestically produced radar and missile systems, command and control centres, and cyber warfare systems will be used in this exercise," the Guards' website said.
After the US imposed its sanctions, which placed 13 people and 12 companies on the US Treasury's "Specially Designated Nationals" list, Iran hit back and said its officials would not cave in to threats from an "inexperienced person".
On Friday (3 February), Iran's Foreign Affairs Minister Mohammad Javad Zarif defended the country's missile program in the context of the 1980 Iran-Iraq War.
"You were not the subject of eight years of war where your cities were showered with missiles, carrying chemical warheads and you did not have a single missile to retaliate so that maybe Saddam Hussein would stop," Zarif said.
"We went to one country after another begging, begging – I'm insisting, begging – for a single Scud missile to defend our people. Begging.
"Now you want us to get a few dollars to Iran to abandon defending our people. We really hope and wish for a day where nobody will spend any money on any of these weapons. Actually we're far ahead of many people because we spend a fraction of their expenditure on weapons.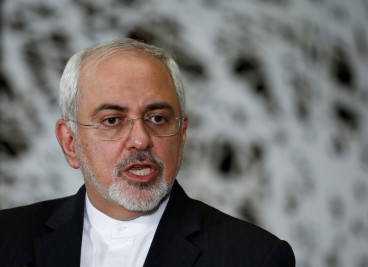 "We are entitled to the rudimentary means of defence, which we need in order to prevent another Saddam Hussein around the corner attacking us with chemical weapons because the international community has failed miserably in protecting the Iranian people, in safeguarding international humanitarian law.
"Saddam Hussein became the worst enemy of humanity, not when he was invading Iranian territory killing Iranians with chemical weapons, but when he attacked Kuwait. For eight years, he was people's darling, he was people's sweetheart.
"Go explain that to the Iranian people and tell them for the business community to feel nice about Iran, you should allow another Saddam Hussein to attack you."