Iran has unveiled a new long-range ballistic missile as the country marks the 36th anniversary of the 1980 invasion by Iraq. In a direct show of force and military might against the US and Israel, Tehran has showcased scores of weapons ranging from tanks, missile systems, warplanes and long-range missiles across the country.
Zolfaqar, the latest in the series of Iran's long-range missiles was unveiled at the southern port city of Bandar Abbas. It is said to be capable of carrying multiple payloads to precisely strike various targets on the ground. Continuing the conventional symbolism, a threat against Israel's was written on the truck carrying the new missile. It read: "If the leaders of the Zionist regime make a mistake then the Islamic Republic will turn Tel Aviv and Haifa to dust," referring to the two Israeli cities.
As many as 500 vessels, submarines and helicopters were assembled in the port city by the Iranian navy. The Qadr H missile, which is believed to have a strike range of 2,000kms, was also on display. The parades come at a time when all is not well in the crucial waterway of the Gulf as confrontations with the US are escalating.
"We tell the Americans that it's better that the capital and wealth of the American people should not be wasted on their inappropriate and detrimental presence in the Persian Gulf," Major General Mohammad Ali Jafari, commander of the Islamic Revolutionary Guard Corps, was quoted as saying.
The Russian-made S-300 air defence system, which was recently positioned to guard Iran's underground nuclear facility of Fordo, has also found a place in the military parade in the capital Tehran. Sukhoi Su-22 fighter jets flew over the coastal city of Bandar Abbas.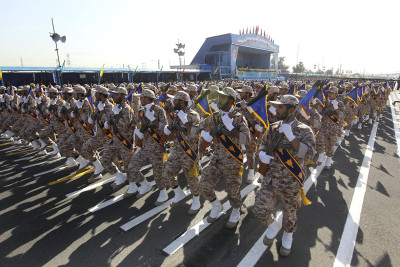 "The recent decision of the American criminals to give military aid to the usurper Zionist regime [Israel] reinforces our determination to increase our defence capabilities. The ultimate objective of the United States, the Zionist regime and those who support terrorist groups... is to destroy the infrastructure of Syria and Iraq in favour of Israel," said the chief of staff of the Iran's armed forces, General Mohammad Bagheri, in a reference to the recent military deal, worth $38bn,signed by the US and Israel.
Apart from the Western world and the traditional arch-rival Israel, Iran is also at loggerheads with fellow Middle East heavyweight, Saudi Arabia. Tensions have flared up frequently in recent months between the Shia-inclined Iran and the Sunni kingdom.