The Iranian Revolutionary Guard is using an extensive system of clandestine docks and harbours to raise $12bn each year through the smuggling of alcohol, narcotics, luxury cars and arms, an opposition group has claimed.
The National Council of Resistance of Iran (NCRI) has alleged that the Iranian Revolutionary Guard Corps (IRGC) is using secret military harbours to raise funds and transport sanctioned weapons to its proxy fighters abroad.
The council – a branch of Iran's Armed Forces, founded after the 1979 revolution – provided information to the US intelligence services in 2002, exposing the existence of two nuclear plants containing a heavy water reactor and facilities for the enrichment of Uranium. It has said the networks play a pivotal role in the illegal movement of weapons from Iran to Yemen.
On the basis of evidence provided by its informants in the exiled opposition in Iran, also known as the People's Mujahedeen Organisation of Iran (PMOI), claims the IRGC uses its access to 90 official ports across three provinces in southern Iran to move weapons to Yemen and Shia Houthi rebels there, in violation of a 2014 UN weapons embargo.
The PMOI has said the IRGC has used three major international shipping companies linked to the guard crops as front companies to smuggle weapons through Oman and into Yemen. The opposition group alleges the weapons, which include AK47 assault rifles, rocket propelled grenade launchers, other explosives and mines, are transported overland to Yemen through the ports of Soltan Qabood in Muscat, Sohar Port in North Oman and Salalah Port in South Oman.
None of the three shipping firms named by the PMOI responded to the requests by IBTimes UK for comment on the allegations.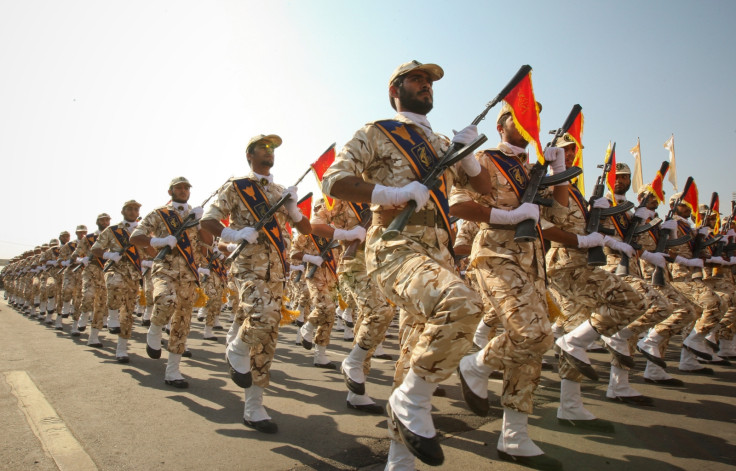 In February, intelligence officials from the US and Iran told the media that the movement of missiles and small arms have been increased to Yemen in recent months, mostly run through Oman.
The increased build-up of arms in the country threatens to prolong Yemen's 19-month-long proxy war in which a Saudi-backed government has battled with Iran-backed Houthi rebels.
The White House has said it is considering designating the Iranian Revolutionary Guard as a terrorist entity. The move would be a departure from the policy pursued by the previous Obama administration which had engaged in rapprochement with Tehran.
The United States has already imposed sanctions on individuals and entities linked to the IRGC, Iran's most powerful security entity. It is has control over large stakes in Iran's economy and huge influence in its political system. However, sanctions on the group as a whole may inflame tensions in the region with Shia miltias in Iraq, battling the Islamic State in a US coalition armed and trained by Iran.