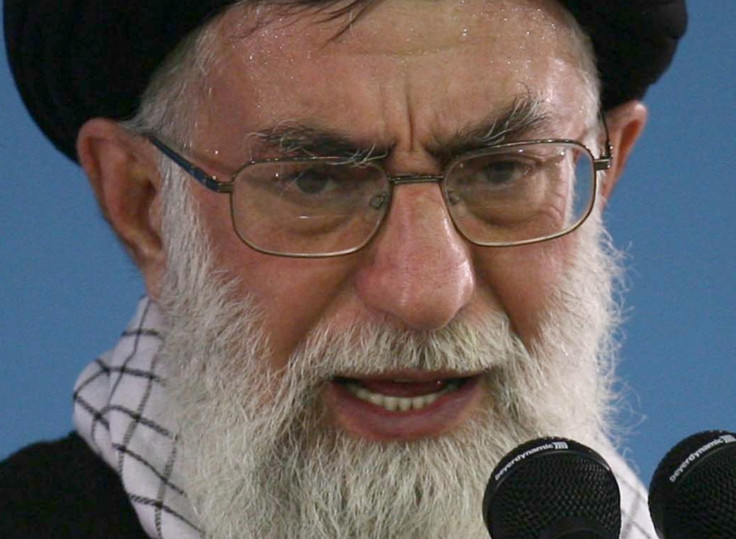 Iran's supreme leader has branded the "great satan" US and the UK "evil" enemies of the Islamic Republic and rejected the idea of working with America.
Ayatollah Khamenei made the comments as part of a speech he gave at the 27th anniversary of the death of the country's former supreme leader Imam Khomeini, Breakingnews.com reported, in which he also stated that sanctions from the West had been a reaction to Iran's 1979 revolution.
In a live broadcast on state TV, he said: "It is a huge mistake to trust evil Britain and the great satan."
In a Twitter live feed of the speech, the supreme leader wrote: "Before Revolution, U.S. & UK were ruling over us. Our grand Imam, changed #Iran's path and changed the railway."
He added: "That we refused to be in US-led coalition in regional issues and #Syria is due to same reason that we don't want to play in enemy's playground."
Hi anti-US rhetoric continued as the speech went on, with his live feed stating: "Any person or movement working in name of #Islam, if trusts the U.S. has committed a great mistake and will suffer its consequences; as in recent years some Islamic movements trusted US under pretexts of political rationality and tactics and were slapped in face as a result."
Khamenei also touched on the recent nuclear deal, adding that even when Iran had compromised, the US had continued to be "destructive", referring to the country as "disloyal".
The nuclear deal has drawn criticism from both sides, with several American politicians including yet-to-be confirmed Republican presidential nominee Donald Trump suggesting the deal should be scrapped – as the GOP candidate vowed to do if elected to office.
In Iran, increased interaction and trade with the West is frowned upon by hardliners including Ayatollah Khamenei, who has previously stated the slogan 'death to America' is backed by reason and wisdom, and is related to US policies rather than its people.