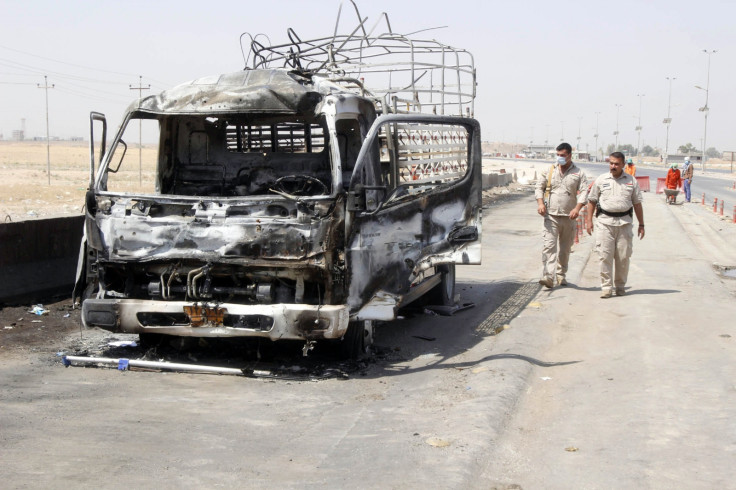 A British man from Derby, Kabir Ahmed is reported to have died while carrying out a suicide bombing in the northern oil refinery town of Baiji.
Islamic State (IS) militants named him as being among the bombers who killed a senior Iraqi police official in Baiji, north of Baghdad.
The Foreign and Commonwealth Office (FCO) said it was looking into reports that a Briton had died in a blast that rocked the town of Baiji about 150 miles (250km) north of Baghdad.
An FCO spokesman said: "We are aware of reports of the death of a British national in Iraq and are looking into them."
The offensive happened on Friday when a truck containing explosives was driven at a convoy in which a top Iraqi police officer was travelling.
Eight people were killed, including senior police officer, Lt Gen Faisal Malik Zamel, who was on a tour inspecting local law enforcement.
Seven other police officers were killed and 15 others were wounded, hospital officials and police officers said.
It comes as the coalition air strikes reportedly injured Isis (Islamic State) leader Abu Bakr al-Baghdadi, according to a Guardian report.
Colonel Patrick Ryder, a Central Command spokesman, said the US military had reason to believe that the convoy was carrying Islamic State leaders, but could not confirm if Abu Bakr al-Baghdadi was among those present.
"I can confirm that coalition aircraft did conduct a series of air strikes yesterday evening in Iraq against what was assessed to be a gathering of Isil leaders near Mosul," he said.
Reports were also emerging that the US carried out a series of air strikes against Islamic State forces in northern Iraq, reportedly killing two of its leaders.
Shiraz Maher, a senior fellow at the International Centre for the Study of Radicalism at King's College London, posted three pictures of Ahmed on Twitter, who called himself Abu Sumayyah, and claimed he was the suicide bomber.
Maher tweeted: "British foreign fighter, Abu Sumayyah, (real name: Kabir Ahmed) from Derby carried out a suicide bombing in Baiji, Iraq, yesterday.
"This makes two British suicide bombers in the Syria/Iraq conflict. First was Abu Sulaiman for Jabhat al-Nusrah, now Abu Sumayyah for IS.
"British suicide bomber in Iraq, Abu Sumayyah (Kabir Ahmed) originally joined Jund al-Sham in Syria and then moved to Islamic State.
"Abu Sumayyah (Kabir Ahmed), British suicide bomber in Iraq, was 32, married, and had children."
Mr Ahmed previously told BBC's Panorama earlier this year that he wanted to become a "suicide bomber".
In February 2012 he was the first person in the UK to be convicted of "distributing threatening written material to stir up hatred on the grounds of sexual orientation".
Baiji is the location of Iraq's largest oil refinery and has been the site of intense fighting for control between Islamic State militants, who have seized much of the the north of the country and neighbouring Syria, and Iraqi government forces.
Meanwhile, in and around the Iraqi capital Baghdad, more than 40 others were also killed in a series of bombings.