Isis: Leader of Terror Group is Critically Injured in US Airstrikes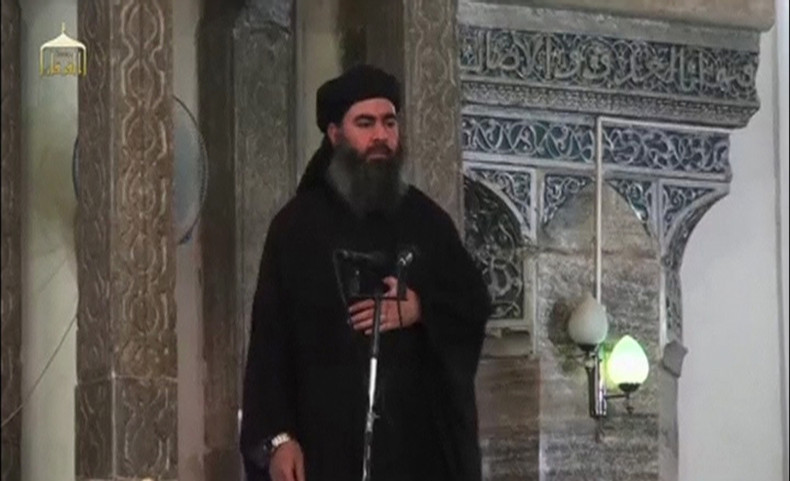 Coalition airstrikes have targeted a gathering of ISIS leaders, critically wounding their leader and destroying a convoy of 10 trucks.
Senior IS officers were meeting at a house in al-Qaim, a town on the Iraq-Syria border when bombs were dropped, killing more than a dozen people.
Abu Bakr al-Baghdadi, the group's commander, is believed to have been hurt in the US led airstrikes.
The leader of IS in Anbar province, along with his deputy, were killed in the attack according to local officials.
Following the attack, local ISIS officials were reportedly roaming the streets with loudspeakers ordering residents to donate blood to help the wounded.
A local hospital was said to be overwhelmed with the volume of patients from the raid, which included al-Baghdadi.
Al-Qaim and the neighbouring Syrian town of Albukamal are on a strategic supply route linking territory held by Islamic State in Iraq and Syria.
An attack on Baghdadi would be the most significant blow in the campaign against ISIS.
In a statement, US Central Command said: "This strike demonstrates the pressure we continue to place on the IS terrorist network and the group's increasingly limited freedom to manoeuvre, communicate and command."
The coalition of air forces, which includes Great Britain's RAF and Canadian fighter planes, also struck a convoy of trucks outside Mosul, ISIS's stronghold city in northern Iraq.
President Barack Obama recently approved sending up to 1,500 more troops to Iraq, doubling the presence of U.S. forces on the ground who will advise and retrain Iraqis in their battle against Islamic State.
The deployment signifies a significant escalation of the US campaign against the Islamic State, dubbed Operation Inherent Resolve by the Pentagon.
President Obama commented in a recent press conference that it is still too early to sat whether the US-led military coalition has gained the upper hand against the Islamic State (Isis)in Iraq and Syria.