Iraqi Special Forces evacuate 1,000 civilians from front lines of battle against Isis in Mosul
Elite Iraqi forces are clearing areas retaken from Isis since the beginning of Mosul offensive
One thousand civilians caught between opposing forces in the battle for control of the Islamic State (Isis) stronghold of Mosul have been evacuated by Iraqi Special Forces, the vanguard of the US coalition offensive against the militant group.
The elite Iraqi forces have begun operations to clear areas retaken from Isis since the beginning of the nine-day-long offensive on Mosul. In the villages and hamlets, some of them just a few isolated structures, coalition forces have uncovered the edges of a vast network of tunnels used to shuttle fighters and supplies.
Such is the scale of the tunnel system, Isis militants have used motorcycles to move the supplies around.
The 1,000 civilians, many of them from the town of Tob Zawa and its surroundings have been relocated to a refugee camp in the Khazer region. The International Organisation for Migration (IOM) has said at least 8,940 people have been displaced since the operation to retake Mosul began on 17 October.
The United Nation's human rights agency has reported a series of atrocities carried out by Isis forces over the course of the offensive. At least 150 people have been killed or tortured by the militant group in areas surrounding Mosul.
One particular report documented how three women and three young girls were shot dead by Isis on 22 October in the al-Qayyarah sub-district, south of Mosul, after failing to keep up with their group.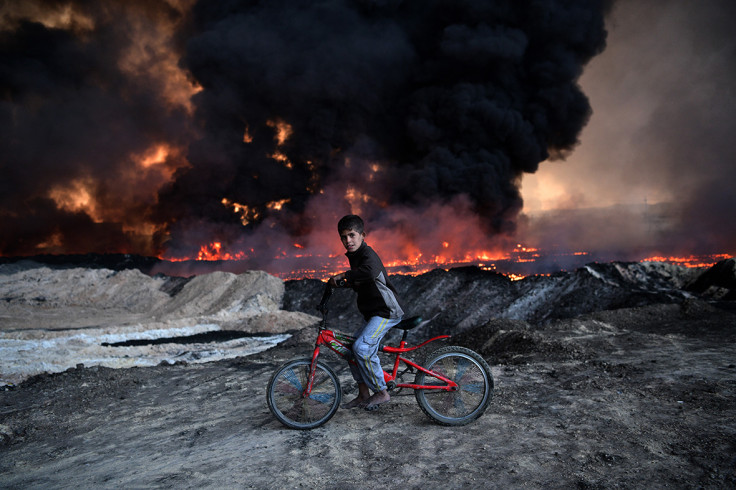 In recent weeks they are also said to have targeted alleged spies and others they fear may rise up against them, Associated Press reported.
Isis has carried out a series of wild-cat attacks on Iraqi cities outside Mosul since the start of operations in Mosul, diverting attention away from the offensive. Reuters reported the Iraqi army had regained full control of the western town of Rutba on Wednesday (26 October), three days after an Isis raid on the town.
The spokesman for the UN High Commissioner for Human Rights said "severe measures" were taken by local Iraqi Kurdish authorities in Kirkuk following a massive Isis assault on the northern city last week.
In the wake of the attack all internally displaced people living outside established refugee camps had been ordered to vacate their residences and move into the camps, some of which are already full.
© Copyright IBTimes 2023. All rights reserved.