Thousands of displaced Iraqis belonging to an ancient and secretive religion have been trapped in the Sinjar mountains and left to starve to death after escaping a siege from Sunni militants of the Islamic State.
The humanitarian tragedy involving 30,000 fleeing Yadizis, whose religion is a syncretic combination of Zoroastrianism with Sufi Islam, dating back to ancient Mesopotamia, could turn into a genocide, according to humanitarian agencies.
"There are children dying on the mountain, on the roads," Marzio Babille, the Iraq representative for the United Nations Children's Fund (UNICEF), told the Washington Post. "There is no water, there is no vegetation, they are completely cut off and surrounded by Islamic State. It's a disaster, a total disaster."
Ten children and one elderly woman died on Tuesday, according to reports, while on Monday seven children had died.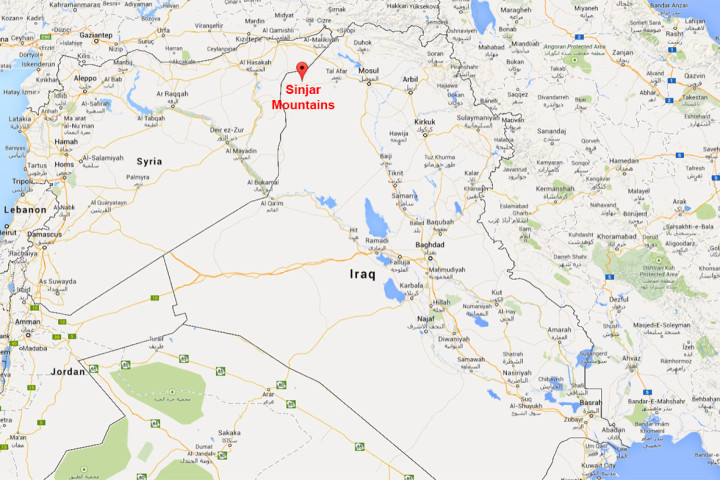 There are around Yazidis 600,000 across Iraq and this minority sect have reportedly been persecuted for centuries. Combining Zoroastrianism, Manichaeism, Judaism, Nestorian Christianity and Islamic elements, the minority group considers itself different from the Kurds with whom they live.
The most important figure in the sect is Malak Taus (Peacock Angel), worshipped in the form of a peacock, who is considered to be one of the seven angels safeguarding the world.
According to Yazidi mythology, Malak Taus was thrown out from paradise for his refusal to bow down to Adam.
Muslims see this figure of a fallen angel as evil and consider Yazidi as devil-worshippers. Even moderate Muslims struggle to accept the group, given its belief in reincarnation and metempsychosis or transmigration of souls.
Jihadists in Iraq have already targeted Christians, expelling them from Mosul, and Shia Muslims.
The Islamic State took over Sinjar from the Kurdish forces, forcing 200,000 people fleeing. Most of them managed to arrive in the semi-autonomous Kurdish region. In an attempt to flee the jihadists' grip 500 Yazidi men were killed by militants. The women were enslaved as "war booty", Vian Dakhil, a Yazidi lawmaker, said.
Dakhil broke down in tears during a parliament session in which she appealed to the government and the international community to save her community from destruction.
"Over the past 48 hours, 30,000 families have been besieged in the Sinjar mountains, with no water and no food," she said.
"Seventy children have already died of thirst and 30 elderly people have also died. We are being slaughtered, our entire religion is being wiped off the face of the earth."
The UN condemned attacks by jihadists saying that "widespread or systematic attacks directed against any civilian populations because of their ethnic background, religion or belief may constitute a crime against humanity, for which those responsible must be held accountable".