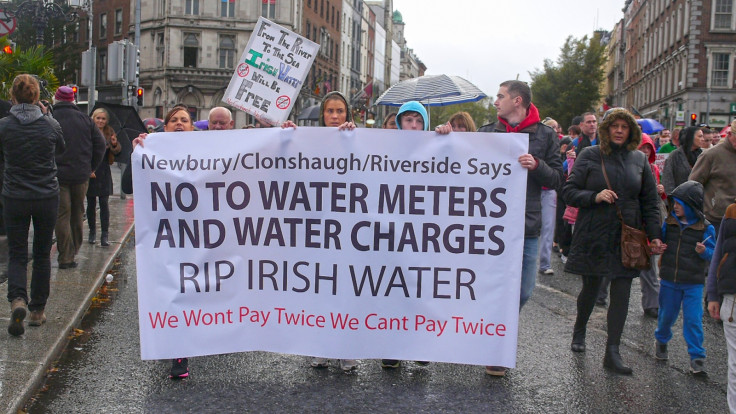 Thousands of people have taken to the streets of Dublin to protest against the introduction of water charges in Ireland.
Currently, Irish people have paid for their water through general taxation. However, in an effort to help repay the bailout Ireland received in 2010, the government is to introduce a separate levy from 1 January. The first bills will be issued in April and will be collected by a newly established public company, Irish Water.
The government said the money will go towards improving the national water pipes infrastructure, but the plans have been greeted with widespread opposition from the Irish public, many of whom have grown tired of austerity policies.
In November the Fine Gael-Labour coalition was forced to cap the charges at €160 (£128) for single adult households and €260 (£208) for all other residents, in the face of the protests. Meanwhile, eligible households will receive water conservation grants of €100 a year, which will reduce their bills.
However Environment Minister Alan Kelly has today said that he does not foresee any further changes to the plan. He claims that the opposition has not come up with any other feasible way of raising the €1bn required to supply water from general taxation.
The protests seemed to come to a head in November when a bomb threat was made against Kelly's constituency office in County Tipperary, related to the water charges. In the same week, protestors tried to stop the Taoiseach Enda Kenny's car as he drove through Sligo, banging on the door and scuffling with the police.
Critics of the levy have described it as "Ireland's poll tax". Independent Senator Sean Barrett equated the fervour in the country with that which surrounded Margaret Thatcher's controversial tax in the UK in the 1980s. He said that Irish Water was barely functional.
"There is surplus staff, a bonus culture, weak regulation by a regulator that pays its own staff bonuses, the inability to communicate the 'take it or leave it' attitude, and the off-balance sheet vehicle that is allegedly meant to promote investment," he said.
One Garda officer was injured in today's protests, which brought Dublin city to a standstill.
Some protesters shared their images of the march on Twitter.