Harry Redknapp is reportedly ready to succeed Italian Giovanni Trapattoni as manager of the Republic of Ireland national team. A report by The Sun quotes sources close to the former Tottenham boss as confirming Redknapp is interested in the opportunity and would accept the offer, if one is made.
"He's genuinely intrigued at the possibility of managing Ireland. He's enjoying his time away from the game, but he does want to get back to work," the source was quoted as saying, and adding the 65 year old would want a four year contract - which would run to, and include, the 2016 European Championships in France.
The 73 year old manager has an extremely impressive CV, having managed and won league titles with every club he has ever worked for. He has six Serie A titles with Juventus (and one with Inter Milan), a Bundesliga crown with Bayern Munich and Austrian and Portuguese league titles with Red Bull Salzburg and Benfica respectively. He has also won the Champions League (when it was called the European Cup) in 1984 with Juventus and led the Irish to the inaugural Nations Cup last year, beating Scotland in the final.
Trappatoni's time in charge of Ireland began excellently, with qualification to the summer's European Championship and a nail-biting (and undeserved) loss to France in the play-offs for the 2010 World Cup. However, since earlier this year, relationships between the manager and key members of the squad have gone downhill... an example of which was the Kevin Foley incident.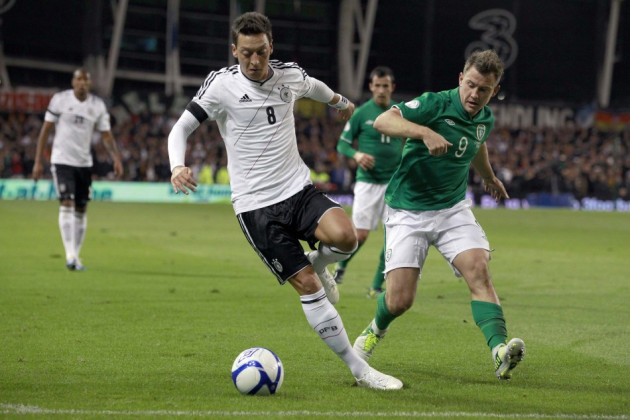 Matters came to a head after a humiliating World Cup qualifier defeat to Germany at home. The Irish were trounced 1-6 by a ruthless German side, who themselves admitted they expected more resistance from Trappatoni's men.
"We expected them to be a little bit stronger," team manager and ex-international striker Oliver Bierhoff told Goal.com, adding, "We played very focussed. We have talented players with a lot of technique and other skills but the Irish team was a little bit disappointing."
Ireland have since bounced back, with a 4-1 win at the Faroe Islands on Tuesday night. However, despite the win the Irish FA's chief executive, John Delaney, refused to rule out the possibility Trappatoni would be relieved of his duties soon. The Italian does have some support from his players though, with former Tottenham and Liverpool striker Robbie Keane speaking out in support.
"I believe we can qualify, there's no question about that. I still believe we can qualify and I am sure the manager believes that too, so I believe that the manager will be there with us," Keane, who was injured and unavailable for the horror show against Germany, said, "It's out of my hands, but I am sure every player would probably say the same, we want him to stay and continue this campaign."
Trappatoni himself is defiant and insists he will not resign.
"We have started the qualifiers and after the Euros, we have lost one game to Germany, the second team in the world. There is no reason to go. It's no problem. When we have had a bad result, I expect a good reaction with character, attitude, commitment," he stressed, adding, "We have had a good training session, we are still here and we have a good atmosphere. The team has reacted well."