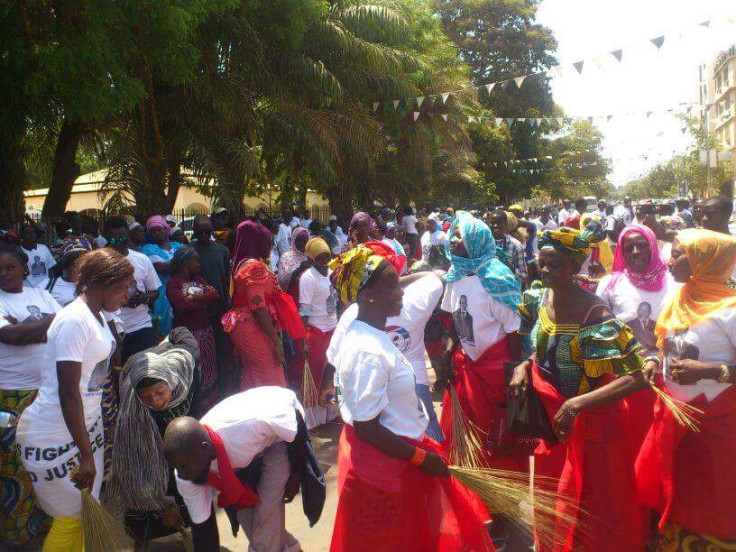 A Gambian opposition member has died while he was in detention, the country's main opposition party, the United Democratic Party (UDP), has claimed. Solo Krummah, UDP's deputy chairman of the Sandu Constituency, died after being admitted at the Edward Francis's Small Teaching Hospital in the capital Banjul.
Krummah was admitted to hospital on 8 August under armed guard. He was arrested on 9 May during protests that called for electoral reforms and the resignation of Gambian President, Yahya Jammeh, who has been in power since 1994.
Authorities claimed the protest was illegal as demonstrators had failed to obtain permission from the police and at least 50 people were arrested.
"The lawyers have been consulted and will act accordingly to get to the cause of the death of Solo and for the body to be given to the party and family for a fitting burial," the UPD was quoted by Reuters as saying.
Both the government and the Edward Francis Hospital have not yet commented on UDP's claims.
Krummah is the second UDP member to have died while being in detention. UDP secretary Solo Sandeng is believed to also have died while in custody. He was arrested in April when anti-government protests first erupted.
Earlier in July, UDP leader Ousainou Darboe and 18 other people were sentenced to three years in jail after being arrested for taking part in the April protest. The defendants were found guilty of participating in the unauthorised protest which occurred near the capital Banjul.
Government's position
In a public address to the nation on 18 May 2016, Jammeh defined members of the Gambian opposition as "opportunistic people supported by the West".
He added: "I will bow to only Allah and my mother. I will never tolerate opposition to destabilise this country."
Earlier in May, Samsudeen Sarr, Gambia's deputy ambassador to the UN – based in New York – was recorded while saying he would open fire on protesters in Banjul.
"If I were there, and I was in charge, I would open fire on anybody," the diplomat said. The clip surfaced on 9 May, hours after activists and the opposition claimed security forces attacked people who had gathered outside the High Court in Banjul, as Darboe had appeared for a court ruling.
Sarr accused the person who secretly recorded him of doctoring the audio, having released just a few seconds of a two-hour-long conversation.
He also claimed people behind the protests were "anti-Gambia government dissidents" in the US and Europe who aimed to overthrow the government which, he said, had been overwhelmingly voted into office. He also rejected allegations that Sandeng died in custody.