The Islamic State (Isis) has banned football referees from their self-declared caliphate because they implement Fifa rules "in violation of the commands of Allah", according to reports.
The British-based Syrian Observatory or Human Rights (SOHR) said that (Isis) Daesh commanders had even devised a list of rules on how injured players could seek compensation through Sharia Law.
The SOHR reported that IS jihadists had declared international football rules "illegitimate" under their strict version of Islam, in the Deir ez-Zor province that borders Iraq.
The monitoring group say that they spoke to local sources that say the extremists told players that referees would be banned because their decisions "do not judge according to what Allah has revealed".
They added that the rules are "a violation of Allah's command and the Sunnah" and that the al-Hisbah religious police would implement a "Qisas" (a compensation agreement) would be introduced for injured footballers. A "Diyat" is the financial compensation paid to a victim in cases of bodily harm which also conceivably be introduced.
The ban was established before the start of league matches in the embattled area. "We're lucky because the football we play does not run using Fifa's name – then the organisation [Isis] would have stopped games once and for all and not just refereeing," a player told SOHR.
The militants have labelled smoking, dancing, watching foreign television and western music "haram" (forbidden) with punishments ranging from public flogging to execution. And although playing football is tolerated IS activities surrounding it often are.
In 2015 IS passed a strict law forbidding anyone in its territory from watching the El Clasico football match between Barcelona and Real Madrid. The group reportedly enforced the ban with a punishment of 80 lashes.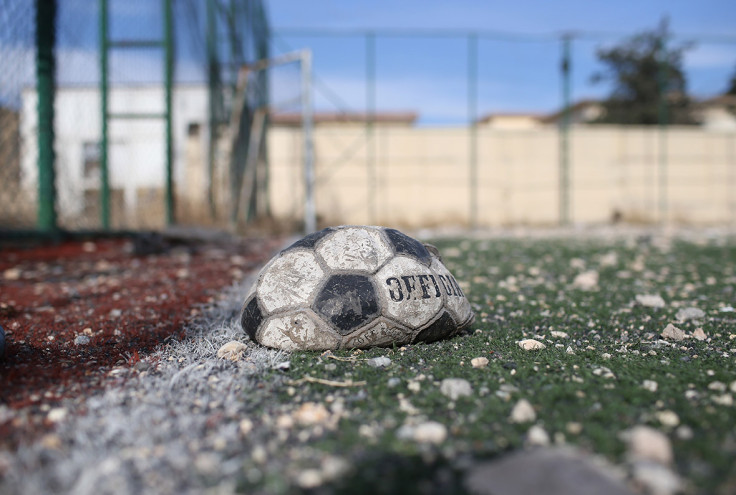 In May 2016, the jihadists reportedly executed a seven-year-old boy by firing squad after he was heard swearing while playing a game of football with his friends. The boy was apparently killed in the de facto capital of Raqqa when a militant walked past and said he heard him of swearing.
And in March 2015 IS issued a fatwa that allowed their fighters to play table football in their free time, provided that the figures are decapitated. The religious edict, translated and shared by British analyst Aymenn J. al-Tamimi and published by Radio Free Europe/Radio Liberty, was part of a stack of IS administrative documents focusing on education, public services and religious life.