Isis: British Hostage John Cantlie in New Video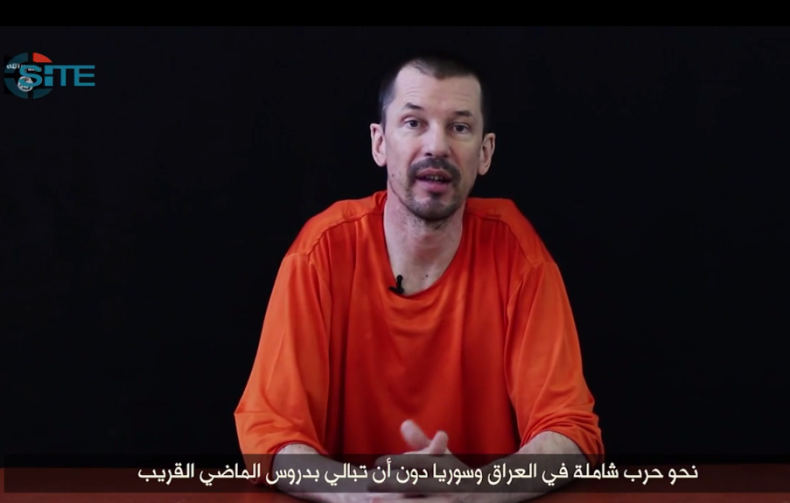 The Islamic State (Isis) has released a new propaganda video featuring British hostage John Cantlie.
In the footage, the sixth of its kind, the photojournalist speaks about a failed US attempt to free him and five fellow hostages in July.
Cantlie says he feels "abandoned" by his government and criticises Britain and the US for refusing to negotiate for his release.
"In this programme I'll tell you about a failed raid to rescue us and how it feels to be left for dead by your own government," he says.
The US said its Special Forces mounted a secret rescue operation to free the hostages in July, after the Islamic State released the first video showing the beheading of one of its western captives, US journalist James Foley.
The Pentagon said the mission, involving air and ground components, failed as the hostages were not at the targeted location.
Another four hostages, Britons David Haines and Alan Henning and Americans Steven Sotloff and Peter Kassig have been since executed by the Islamist group.
"Why do you put all those lives in danger when you could peacefully negotiate like everyone else?" Cantlie asks in the video, which cannot be independently verified.
In it, Cantlie appears behind a desk dressed in an orange jumpsuit in a dark room as in the five previous recording posted with the title "Lend me your ears".
His beard and haircut also looks the same, suggesting the six videos might have been recorded in the same period.
In another recording published late in October and featuring the 43-year-old purportedly reporting from the Syrian town of Kobane, the photojournalist sports longer hair and a different goatee.
In this latest release he makes no mention of the last hostage execution publicised by the Islamic State, that of fellow Briton Kassig.
It is believed Cantlie recorded the message under great duress.
Cantlie was kidnapped in Syria in 2012 and has previously called on the British and American governments to change policy and negotiate for hostages' release.
In an article he purportedly penned for IS mouthpiece publication Dabiq in October, he wrote he fears he will be the next hostage to be executed.