A Chechen refugee based in the Netherlands for 15 years has taken two of her children to the Islamic State (IS) stronghold of Raqqa in Syria without their father's consent, the Dutch prosecution's office says.
The 33-year-old woman, who has not been named, took her son Luca, 7, and daughter Aysha, 8, from their hometown of Maastricht last October (2014). The head teacher of the Islamic el-Habib school the children attended alerted their Dutch father when the mother printed plane tickets to Greece sparking a nationwide alert.
Despite an international arrest warrant the woman somehow managed to get herself and the two children to Raqqa, leaving her other two children with relatives in the Netherlands.
The children's father, who became estranged from his former partner around six years ago when she began to become radicalised, told Dutch newspaper De Limburger that Luca and Aysha were taken without his consent.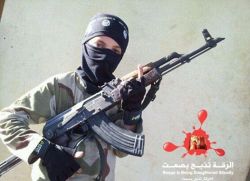 The father is believed to have contacted authorities several times saying he believed she was planning to go to Syria. He even received an anonymous text on 23 September warning him of her plans.
In the months before she left, the man said, his ex had asked him for more money than usual. At one point he sent €300 to help her settle into a new flat, but it now looks like the money "may have contributed to funding my children's journey."
The police interviewed the woman several times but she denied the plans. It is thought she was helped by foreign recruiters and obtained fake passports to smuggle herself and her children out of the country.
The woman reportedly called her mother in Maastricht on 2 January saying she was in Raqqa, but since then nothing has been heard from the woman or her children. Not knowing what had become of them, said the father, was "crushing my soul."
The prosecutor's office say it is the first time Dutch children have been abducted against the consent of a parent and taken to IS territory. However dozens of Dutch families have voluntarily gone to IS territory in the last two years including 31 children. 12 minors aged 16-18 have also travelled independently to Syria.
Prosecutor Bart den Hartigh told public broadcaster NOS that Dutch authorities are powerless to act due to Syria being a war zone and there being no formal relationship between the two countries.
"She first tried to leave unsuccessfully from Germany, then some time later travelled from Belgium to Greece and onward to Syria," said den Hartigh. "We have an international alert out but now they're there, there's not much we can do."
According to the Dutch Justice Ministry, around 180 Dutch jihadists have gone to Syria, of which around 35 have returned and 21 killed in the ongoing civil war.