Already battling air strikes from the US and its allies, including the UK, terrorist organisation Isis (Islamic State) now have a new threat to look out for – a motorbike gang from the Netherlands.
The Dutch bikers, who go by the name No Surrender, reportedly journeyed to Iraq to fight alongside Kurdish troops against IS militants last week.
Charged with commenting on the legality of that move, the Dutch public prosecutor said that the bikers are not necessarily committing any crime.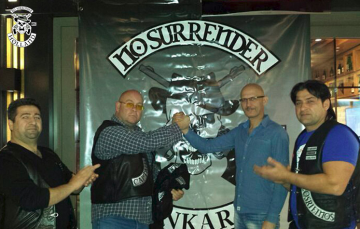 Prosecutor spokesman Wim de Bruin told AFP: "Joining a foreign armed force was previously punishable, now it's no longer forbidden."
"You just can't join a fight against the Netherlands."
The head of No Surrender, Klaas Otto, told state broadcaster NOS that three members who had travelled to Mosul in northern Iraq – where Islamic State have seized control – were from Amsterdam, Rotterdam and Breda.
Kurdish comrades
A photograph posted to Twitter by an account purporting to be Dutch-Kurdish shows a tattooed Dutchman called Ron in military fatigues, holding a Kalashnikov assault rifle while sat with a Kurdish comrade, reports AFP.
Video footage apparently from a Kurdish broadcaster shows an armed European man with Kurdish fighters saying to the camera in Dutch: "The Kurds have been under pressure for a long time".
De Bruin said that although the actions of No Surrender are legal, they would be liable to prosecution if they committed crimes such as torture or rape.
"But this is happening a long way away and so it'll be very difficult to prove", he continued.
De Bruin also stated that Dutch citizens were forbidden from joining the Kurdistan Workers' Party (PKK) as it is blacklisted by much of the international community in the West as a terrorist organisation.
American nationals have also been reportedly signing up to join forces with the Kurds in the fight against IS. A man named Brian Wilson, who claimed to be a Desert Storm veteran , told Reuters: "There are a few Americans who wanted to come here and help the YPG in any way we can.
"Everything has been fine. They're very nice, very accommodating, hospitable. Very good people", Wilson said about his Kurdish hosts.
The heaviest fighting between IS forces and Kurdish troops has been centred around the town of Kobani in recent days, as the militants push to take control of the strategic border town.
Kurdish fighters captured the strategic hill of Tel Shair and pulled down the flag that had been flying there for more than a week in a symbolic sign of victory.