Christians from across Syria have raced to the religion's last stronghold of Sadad in the west of the country in a desperate bid to defend the town and its remaining inhabitants from the Islamic State (IS). Sadad is home to the country's largest remaining community of Syriac Christians, an ancient branch of Christianity whose members speak Aramaic - the language believed to have been spoken by Jesus.
Last month Isis captured the nearby town of Mahin, five miles away, giving the Islamists a base from which to attack Sadad. Now up to 200 Christian fighters have descended on the Sadad from other towns and cities including Damascus, Qamishli and Hasakah to bolster defences. On 5 November the Patriarch of the Syriac Orthodox Christians, Mor Ignatius Aphrem Karim II, visited the town in a bid to boost morale, Newsweek reported.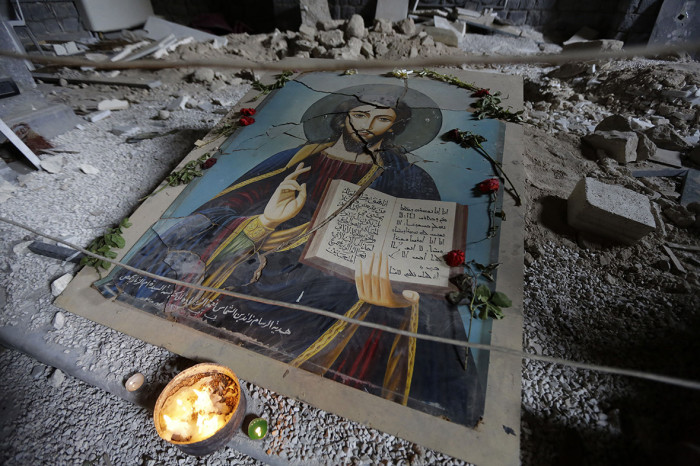 In 2013 al Qaeda's Syrian branch, the Nusra Front briefly took control of the town, killing 46 Syriac Christians before being repelled by the Syrian army. In the latest battle, the Christians have been joined by Muslims and Alawites form the Syrian Army and Syrian Social Nationalist Party (SSNP) to fight their common enemy. A Christian fighter inside Sadad said: "People from all over Syria have arrived to fight for Sadad. It is a symbolic place for us and we will not allow it to fall again."
The population of Sadad has gone from around 15,000 to 2,000 as residents flee before the advancing Islamists. IS has been strongly condemned for killing, expelling or attempting to convert Christians as part of their attempt to create a Muslim caliphate. In Mosul, Iraq, the Christian population has completely disappeared. Now there are fears the same thing could happen across Syria despite the onslaught against IS from all sides.
Father Luka Awad, of the Catholic diocese of Homs, said: "When the ISIS fighters conquered [the Christian town of] Qaryatayn, they made the threat: 'We will kill all of the Christians in Sadad.' My people already experienced a genocide 100 years ago in 1915. Now in the 21st century, we don't need another."