The Islamic State (Isis) has claimed responsibility for the suicide bombing of a Kurdish wedding in northeast Syria which killed 31 people including the groom. Among the dead were five children and 11 women, according to a UK-based Syrian Observatory for Human Rights (SOHR).
The bombing also injured 80 guests at the banquet inside a wedding hall, 16 of them seriously, in the town of Tal Tawil, near the city of Hasaka, which is controlled by Syrian Kurdish fighters. The area has seen intense fighting between Kurds and Daesh (Isis) with the extremists' strongholds of Dier Ezzor and Raqqa around 70 miles (112km) away.
The bride and groom were exchanging vows when the blast ripped through the hall. The AFP news agency said a man who was at the wedding said before the explosion he saw a man pass by him wearing a thick black jacket.
"I thought he looked strange and a few seconds later there was an enormous explosion," he said. "People had fallen on the ground and I saw bodies torn to bits."
Afterwards the BBC reported that Isis militants claimed to have attacked a "large gathering" of Kurdish fighters with a machine-gun and explosive vest.
They also boasted on Twitter that: "ISIS suicide bomber ambushed a Kurdistan Workers' Party gathering on the outskirts of Hasaka with a machine gun, and after he ran out of ammunition, the attacker blew up his explosive vest among the 'PKK apostates", said the New York Post.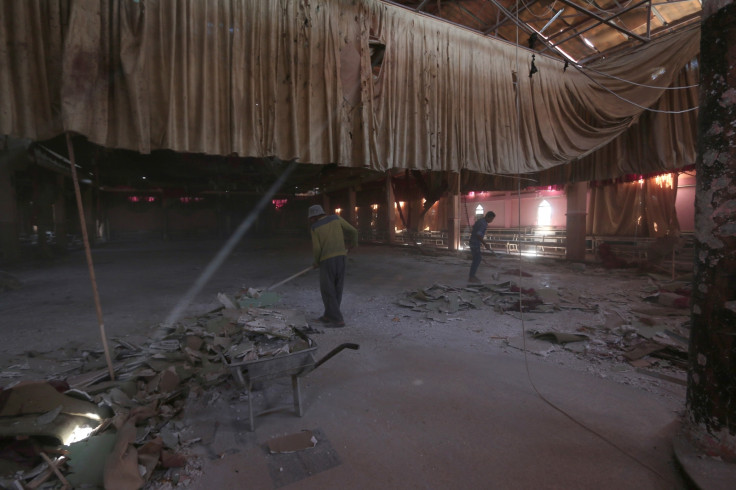 The majority of Hasaka Governorate is under the control of the Kurdish YPG militia after it ousted the Syrian army in August. Islamist militants still engage in lightning strikes against Kurdish forces.
The official Syrian Sana news agency reported that 30 people died with 90 wounded, while the SOHR put the death toll at 31. The groom, Zaradesht Mustafa Fatimi, was reportedly a member of a prominent family involved in the autonomous province.
The SOHR said Fatimi was a member of the Syrian Democratic Forces (SDF), a US-backed coalition of Kurdish and Arab fighters battling Isis. Also on Monday (3 October) two suicide bombers blew themselves up in a square in the government-controlled western city of Hama, killing three people, Sana reported.